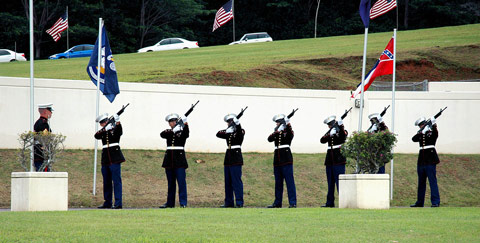 (U.S. Marines perform the "21-Gun Salute" at a Veteran's Day ceremony – Courtesy US Navy)
Today America honors its men and women in uniform for their bravery and sacrifice, unless that is, you live in Wisconsin's Eau Claire School District where celebrating our liberties and freedoms should only be done when it's convenient and politically correct.
According to The Week the school district has cancelled its Veteran's Day program because the shooting of guns is "inappropriate."
For more than 80 years, a local Wisconsin school district had hosted a Veterans Day program to honor former soldiers, featuring a traditional 21-gun salute. But after reports earlier this year of parents and students feeling "uneasy" about the firing of guns on school grounds — even with blank rounds, as is customary in the 21-gun salute — the Eau Claire School District canceled the program.
Apparently, some parents complained to the school council – it's not clear how many – but the town's 80 year old tradition has now been cancelled. Well, maybe not cancelled, Veterans and those who want to celebrate can move down to the local Burger King parking lot, where the 21 gun salute has been authorized.
Kaye Olsen, vice president of the Eau Claire Patriotic Council, which organizes the program, said she hoped to reach a compromise with the school district, but that none could be reached to accommodate the weapons. "It's really hard to tell the veterans they're not allowed to bring those rifles in," she said, especially because "the only purpose is to honor our flag and our country and teach the kids." (source)

…

Tim Leibham, from the Eau Claire Area School District, said, "We do have veteran programs virtually in all of our schools on veterans day. We have had in the past."

But, with scheduling conflicts and parents, who were concerned about a 21 gun salute, the school district had to put to rest a long time tradition that has been in place since the early 1930s.

Leibham said, "It was just this one presentation that was longer in length. It was 60 to 90 minutes. Specifically, we had children who either had an adverse reaction to the noise or precluded from being a part of the ceremony. We thought the needs of our children in our schools to be able to participate in those school activities would outweigh the 21 gun salute." (WQOW)
We certainly wouldn't want children to have an adverse reaction to the noise or to be frightened by the guns. Children don't need to know about the existence of firearms or that sometimes evil men wield them over entire populations of people to achieve their ends. Nor should children be taught that it is our Veterans and active duty military members that, with a gun at their side, are responsible for the very freedoms we  enjoy.
Perhaps rather than banning the 21 Gun Salute, it would have been appropriate for the school district to use it, as our President often likes to say, as a teachable moment. Contrary to popular belief by the hyper-sensitive in our society, the salute designates not an act of war, but rather, peaceful intentions.
Moreover, it is considered to be one of the highest honors a nation can bestow:
The 21-gun salute became the highest honor a nation rendered.

…

In 1842, the Presidential salute was formally established at 21 guns. In 1890, regulations designated the "national salute" as 21 guns and redesignated the traditional Independence Day salute, the "Salute to the Union," equal to the number of states. Fifty guns are also fired on all military installations equipped to do so at the close of the day of the funeral of a President, ex-President, or President-elect.

Today the national salute of 21 guns is fired in honor of a national flag, the sovereign or chief of state of a foreign nation, a member of a reigning royal family, and the President, ex-President and President-elect of the United States. It is also fired at noon of the day of the funeral of a President, ex-President, or President-elect.

Gun salutes are also rendered to other military and civilian leaders of this and other nations. The number of guns is based on their protocol rank. These salutes are always in odd numbers.
Video Report: