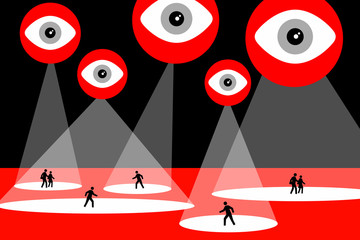 There are "real-time" spies in the skies.  Satellites have already begun watching your every move as mass surveillance becomes a horror story reality, especially for liberty-loving humans.
While commercial satellite imagery is powerful enough, for instance, to see a car, it's not detailed enough to identify the make and model, according to a report from the MIT Technology Review. But privacy and freedom advocates say that doesn't matter in the least.  The problem, is we're already being watched by them.
According to CNET, the dramatic advances in satellite imaging technology in the last 10 years have privacy advocates worried about the 24-hour surveillance. Satellite companies claim that they keep a person's data separate from any identifying characteristics, but Peter Martinez of the Secure World Foundation is one of those still concerned about the constant monitoring of people.
"The risks arise not only from the satellite images themselves but the fusion of Earth observation data with other sources of data," Martinez said in an email. The problem is the sheer volume of satellites overhead. Imaging company Planet Labs confirmed that it has 140 imaging satellites currently in orbit. The report says this is enough to pass over every place on Earth once a day. And those who own the satellites say not to worry.
"Even with Planet's highest resolution imagery (1m resolution), it remains impossible to distinguish individual people, car number plates, or otherwise identifying information. Our imagery is ideal for monitoring large-scale change on a daily basis. This includes seeing daily change across buildings and roads, forests, in agriculture, bodies of water and more," a spokesperson for Planet Labs said in an email.
Technology is growing at a rapid pace, and with it grows governments' surveillance capabilities. Although many are aware that they are being monitored and tracked by those who claim to own us, some don't know just how bad it has become. Everyone wants some form of privacy, however, the world we live in doesn't offer much.
Many countries have surveillance systems, but the countries in the Five Eyes, Nine Eyes and 14 Eyes alliances work together to share data on a massive scale, according to a report by Cloud Wards.  Innocent people are spied on every day. The Five Eyes, Nine Eyes, and 14 Eyes groups are big players in the global surveillance game. Each country involved can carry out surveillance in particular regions and share it with others in the alliance.
The Five Eyes are the U.S., UK, Canada, Australia, and New Zealand.

The Five Eyes alliance, also known as FVEY, was founded on Aug. 14, 1941, and can be traced back to the WWII period. During the second world war, the exchange of intelligence information between the UK and the U.S. was important, and the partnership continued afterward.

The Nine Eyes alliance consists of the Five Eyes countries, plus Denmark, France, the Netherlands and Norway. Though there's evidence that the Nine Eyes and 14 Eyes exist, little is known about what they can and can't do.

The 14 Eyes alliance is made up of the Nine Eyes countries, plus Germany, Belgium, Italy, Spain and Sweden. It's an extension of the Five Eyes and Nine Eyes alliances, but its actual name is SIGINT Seniors Europe. –Cloud Wards
As technology continues to advance, we will lose all privacy and all freedom.  We are already well on our way to complete totalitarianism.
Weapons of Mass Surveillance