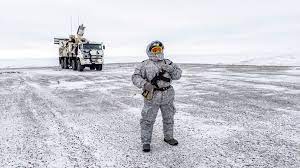 Satellite images are showing Russia is beefing up its military presence in the Arctic. The country is said to be testing new weapons there as it looks to assert its dominance over the region.
According to a report by The Hill, Russia is building upon military bases, hardware, and underground storage facilities on its Arctic coastline, with bombers, MiG31BM jets, and new radar systems close to the Alaskan coast, according to satellite images provided to CNN by space technology company Maxar.
Included in the buildup is the Poseidon 2M39 unmanned stealth torpedo, a so-called super-weapon powered by a nuclear reactor. Russia quickly developing the armament and tested it in February, with further tests planned this year, according to Russian state media.
A report by CNN declares this to be a "military challenge" after a discussion with a member of the ruling class. Are they propagating the public for a war? It kind of feels that way.
"There's clearly a military challenge from the Russians in the Arctic," a senior State Department official told CNN. "That has implications for the United States and its allies, not least because it creates the capacity to project power up to the North Atlantic."
"I think we've been very clear about the threats that we see from Russia across domains. … We're taking them very, very seriously," Pentagon press secretary John Kirby said last week.
The ruling class looks like they want a war. This world is getting unbelievable.  This is the reality they want for us. Humans killing each other for them and their agendas so they can control and enslave those who are left. We have to be prepared and wake up to these tactics.  They are all agendas. Everything is preplanned and we need to use our own critical thinking and discernment and remember that killing each other is not the solution to the differences the ruling class made sure they fomented in our minds.