This article was originally published by Tyler Durden at Zero Hedge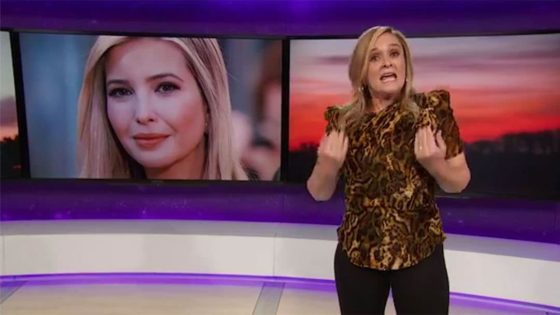 Update: Shortly after Autotrader abandoned its sponsorhip of Samantha Bee's show…
#BREAKING: Autotrader drops their sponsorship of Samantha Bee's show. pic.twitter.com/wNH1neSymR

— Ryan Saavedra ?? (@RealSaavedra) May 31, 2018
The 'comedian' found it within herself to apologize…
I would like to sincerely apologize to Ivanka Trump and to my viewers for using an expletive on my show to describe her last night. It was inappropriate and inexcusable. I crossed a line, and I deeply regret it.

— Samantha Bee (@iamsambee) May 31, 2018
* * *
On the same day as President Trump (and Sarah Sanders) highlight the utter hypocrisy of the liberal media, TBS comedian Samantha Bee 'jumped the shark'.
Samantha Bee to @IvankaTrump on Full Frontal tonight:

"Let me just say, one mother to another, do something about your dad's immigration practices you feckless cunt!" pic.twitter.com/S8BhRYNYxD

— Jon Levine (@LevineJonathan) May 31, 2018
On the night before she is set to receive an award from the Television Academy for "advancing social change," The Daily Caller's Derek Hunter reports that the so-called comedian called presidential adviser (and first daughter) Ivanka Trump a "feckless c**t" in her show's monologue.
"You know, Ivanka, that's a beautiful photo of you and your child," Bee said,

"but let me just say, one mother to another, do something about your dad's immigration practices you feckless cunt!"
The crowd then screamed and cheered.
"He listens to you," Bee continued.

"Put on something tight and low-cut and tell your father to fucking stop it," she said.
And here is the icing on the cake…
Bee will be receiving an award from the Television Academy Thursday night for "advancing social change."
On May 31, @FullFrontalSamB will be recognized for advancing social change by @TelevisionAcad at its #TVAcadHonors celebration. ???https://t.co/2vCmlQ7wFl pic.twitter.com/YtQesf3uak

— TBS Network (@TBSNetwork) May 30, 2018
The White House has issued a statement in response to this (via Jack Posobiec):
"The language used by Samantha Bee last night is vile and vicious.

The collective silence by the left and its media allies is appalling.

Her disgusting comments and show are not fit for broadcast, and executives at Time Warner and TBS must demonstrate that such explicit profanity about female members of this administration will not be condoned on its network."

– Sarah Sanders
Bee has been on the cutting-edge of liberal virtue-signaling – including slobbering all over AG Schneiderman…
As Brietbart notes, amidst the recent allegations against Schneiderman of non-consensual physical assault by four separate women, Bee and her nightly talk show are doing damage control for their part in promoting both him and his work in November 2017. Bee's team has already removed a tweet from the show's Twitter timeline, as called out by Jack Posobiec, and renamed the clip on their YouTube channel of Schneiderman's appearance on the show to "Former AG Tricks Sam Into Thinking He Was Decent."
* * *
Meanwhile, Bee's comment has sparked intense scrutiny over Hollywood double standards in the light of the Roseanne Barr controversy.
Compare ABC's reaction to Roseanne Barr's tweet w TBS's non-reaction to Samantha Bee and you'll see a double-standard in action. There's no uprising against Bee. Why? Because she is liberal. Because the MSM protects Obama and his aides, but not Trump. The hypocrisy is sickening.

— Ari Fleischer (@AriFleischer) May 31, 2018
I remember when a congressional staffer to a backbench GOP Congressman criticized the way the Obama children dressed at a Rose Garden event. It made the network news. The MSM was outraged for days. She lost her job. https://t.co/GdVZfnDRuh

— Ari Fleischer (@AriFleischer) May 31, 2018
I'm sure @TBSNetwork promptly canceled Samantha Bee's show after her vulgar remark about Ivanka Trump because those are the rules now right @therealroseanne? Or is there some view Samantha holds that makes her different? Just wondering where the consistency is guys… https://t.co/BWpxSqv3Mq

— Robby Starbuck (@robbystarbuck) May 31, 2018
Samantha Bee (@iamsambee) is being criticized for calling @IvankaTrump a "feckless c–t." BUT @billmaher called Sarah Palin a "c–t," a "dumb tw–t," a "bimbo"; and called her son, who has Down Syndrome, "retarded." No apology. No retraction. CRICKETS…#SamanthaBee

— Larry Elder (@larryelder) May 31, 2018
For her amazing ability to stand for feminism, yet call another woman a "feckless c*nt" with impunity? Shame on @TelevisionAcad. #SamanthaBee https://t.co/XnhnxdWl76

— James Woods (@RealJamesWoods) May 31, 2018
It was only a few weeks ago that Samantha Bee apologized for portraying Eric Schneiderman as a superhero: https://t.co/g3tJjqrWWq

— John Sexton (@verumserum) May 31, 2018
Has Time Warner or Turner Broadcasting condemned Samantha Bee's vulgar and bigoted remarks? https://t.co/1v7i1KGxrV

— Sean Davis (@seanmdav) May 31, 2018
Huh. I guess some vulgar bigotry is more equal than others. pic.twitter.com/drK5QThsm1

— Sean Davis (@seanmdav) May 31, 2018
"Decency" pic.twitter.com/BSFJxUrJmL

— Jason (@jasonelevation) May 31, 2018
And in case you wondered how the left would handle this…
Roseanne is not the same as Samantha Bee. There's a significant difference between a woman using vulgar language about another woman and a white person using racist language about a black person. pic.twitter.com/tUdqi8iv6E

— Keith Boykin (@keithboykin) May 31, 2018