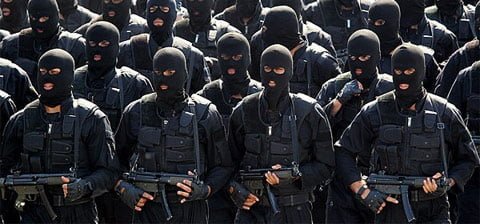 If you were under the impression that the brewing conflict with Syria is over or that it would be a simple one sided affair with the United States launching "brief and limited" strikes on Syrian military assets, then consider the following report from a Russian military review.
According to Senior sources within the Syrian military, as well as Russian insiders, an attack on Syria will not come without repercussions here in the United States. The report, published by the widely read European newspaper Pravda and not carried by mainstream U.S. news channels, indicates that Bashar Al-Assad has been pre-positioning Syrian special operations teams inside the United States with the sole intention of disrupting our economy and causing maximum damage to critical U.S. infrastructure elements in high population areas including railways, power plants, water utilities, oil refineries and military targets.
Should President Obama launch an attack on Syria (or perhaps even Iran, Syria's closest ally), these forces have been given orders to engage key targets on U.S. soil.
Hundreds of Syrian army special forces soldiers are currently located on the territory of the United States, ready to conduct a series of sabotage operations in case of a military aggression against Syria.

…

The publication lists potential targets that can be damaged, including railways, power stations, power plants, waterworks, oil and gas terminals, and military objects, mostly air and naval bases.

An anonymous source said that the diversion could be implemented in the most densely populated areas and states in order to cause maximum damage to the U.S. economy and infrastructure, simultaneously causing panic among the population.

Attacks against civilians are not planned, the anonymous source at the Ministry of Defense of Syria assured. All fighters grouped in units of three to seven people are employed by the Syrian special forces "al-Qassam" and undergone an extensive training. They are equipped to carry out sabotage operations in the United States.

The source said that the Syrian leadership has chosen this strategy based on the experience of the wars in Yugoslavia, Iraq, and Libya, where the aggression was reflected from a defensive position, which doomed these countries to failure.
If true, it's possible that this and the threat of a Russian military response are responsible for President Obama's back peddling on military strikes in Syria.
Save September 11th, there have been no large-scale foreign born attacks on U.S. soil in recent history. Though German submarines targeted U.S. naval assets off our coasts during World War II, America has been left generally unscathed during military conflicts since the Korean war in the 1950's.
That will change should the United States attempt military intervention in Syria or Iran.
If this report is to be believed (and it could be nothing more than propaganda), this time around Americans will directly experience the fallout from wars we initiate in other countries, and it will come in similar fashion to what we've done in Iraq and Libya, and have planned to do in Syria. The targets will be the civilian population, which will be left without electricity, water and potentially even food due to lack of gasoline supplies should the handful of refineries that make it available in the U.S. be destroyed or damaged.
These critical infrastructure elements are totally exposed to sabotage. Each of them, as well as our nuclear power plants, are usually only protected by private security firms (not the military-grade kind) and local police forces. Thus, a well coordinated military style takeover of utility plants or refineries is not out of the question, and is a completely plausible scenario.
We don't know the exact number of Syrian special forces commandos supposedly in the United States. However, even a limited strike force, combined with cyber fighters such as the Iranian backed Izz ad-Din al-Qassam, an organization that may have been responsible for last month's NASDAQ stock exchange outage, could wreak havoc across a totally unsuspecting U.S. public.
What we know is that our life sustaining infrastructure is not secure. The U.S. government knows this and has been planning contingency operations should these areas of our country come under attack.
We also know that any disruptions to the regular flow of commerce would be disastrous, leading very quickly to panic, looting, and a breakdown in civil order.
The Syrians, Iranians and Russians know this as well, thus it only makes sense for a country with limited military resources to take this course of action should we engage them in military conflict.
If we attack Syria or Iran in the future, the American people can fully expect a direct response on U.S. soil. This could well result in our emergency response personnel being overwhelmed and without the ability to provide aid for the millions of people who would be affected within a matter of hours.
The only prudent steps to be taken by the American people are to individually plan and prepare for such events. The government will not be there to provide aid, because despite their efforts to convince us they have everything under control, nothing could be further from the truth. Isolated regional disasters like Hurricane Sandy or Katrina led to complete pandemonium in the streets.
If we can't handle a Hurricane when we have been given a week of advance warning, what do you think will happen if our infrastructure, economy and commerce systems are hit with a coordinated military attack across the most densely populated areas of the country?
Hattip CB