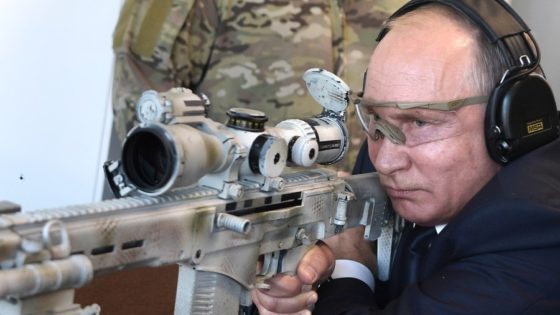 Russian president Vladimir Putin got his hands on a modern sniper rifle from renowned weapons-maker Kalashnikov.  Putin was seen picking off targets at a distance of 600 meters (656 yards) with the new weapons manufacturer's new super rifle.
According to Russia Today, Russian President Vladimir Putin visited an exhibition of the Kalashnikov Concern weapons creator in Patriot Park outside Moscow on Wednesday. Putin didn't just inspect the military hardware and eyeball the new goods. Russia's president got up-close and personal with a modern SVCh (Chukavin Sniper Rifle).
The SVCh was initially called SVK. Recently, Kalashnikov has renamed the rifle to include the designer's last name (Chukavin) into the designation of this firearm and revealed more details. Now the rifle is called Chukavin Sniper Rifle or SVCh (Снайперская Винтовка Чукавина – СВЧ) wrote the Firearm Blog. 
A video from YouTube shows Putin firing the sniper rifle.
The SVCh rifle is loosely based on the iconic Russian SVD and another lesser-known weapon by renowned weapons designer Evgeny Dragunov – the "Compact Assault rifle" prototype. Taking the best concepts from both weapons, the SVCh is said to be more accurate and less prone to dislocation of the optics than the SVD, which is the main rifle for the Russian Army's designated marksmen.