This article was originally published by Tyler Durden at Zero Hedge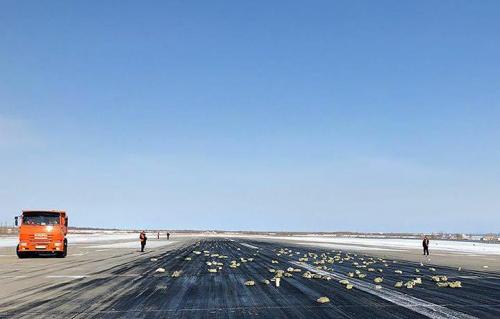 In the west there is "helicopter money." In Russia, they do "airplane gold."
Gems, precious metals and diamonds worth hundreds of millions rained over Russia's coldest region when a Russian plane with ten tons of gold, platinum and diamonds lost a significant part of its cargo upon taking off from an airport in the Russian region of Yakutsk, famous for its rich natural resources and diamond deposits.
The precious rain then continued as the aircraft gained height.
The Nimbus Airlines AN-12 cargo plane hit problems during takeoff, resulting in a breach in the hull that allowed its precious cargo to fall all over the runway.
Local media reports that the glittering metal bars seen in the photos are indeed gold, platinum and gems. TASS cited officials from the Interior Ministry as saying that some 172 gold bars weighing about 3.4 tons were recovered.
Yakutsk Airport insisted that the plane was operational and was ready for the flight. After leaving its cargo on the runway, the plane made a successful landing in the nearby Magan Airport, some 26km north-west of Yakutsk.
According to the Siberian Times, police sealed off the runway and a vast search is underway.
The monetarist dream plane was en route to Krasnoyarsk and further to the Kupol Dome mine.
The plane was carrying more than 9 tons of "concentrate containing precious metal" that belonged to the Mining and Geological Company in the neighboring Chukotka region, the committee said. The ill-fated hatch fell on the local auto market, causing no injuries. The Chukotka Mining and Geological company is 75% owned by Canada's Kinross Gold.
Meanwhile, the technical engineers at the Yakutsk airport who prepared the plane for takeoff have been detained.
The value of the load was put at 21 billion rubles, or $370 million.