This article was originally published by Tyler Durden at ZeroHedge. 
Russia has issued another stern warning related to further potential Ukrainian attacks on Crimea. "Strikes on this territory are considered by us as an attack on any other region of the Russian Federation. It is important that the United States is fully aware of the Russian response," Moscow's ambassador to the US, Anatoly Antonov, warned Sunday.
This was in response to an earlier weekend statement by US National Security Advisor Jake Sullivan to CNN. He said while speaking from the G7 summit in Japan over the weekend, "We have not placed limitations on Ukraine being able to strike on its territory… What we've said is that we won't enable Ukraine with US systems to attack Russia. And we believe Crimea is Ukraine."
However, the US has consistently denied that it has OK'd Ukraine using US-supplied advanced weaponry to mount such attacks.
Antonov further stated on Telegram in response that "the unconditional approval of strikes on Crimea using American and other Western weapons" alongside the move among Western allies to supply Ukraine with jets "clearly demonstrate that the United States has never been interested in peace."
He warned the US administration against "thoughtless judgments on Crimea, especially in terms of 'blessing' the Kyiv regime for air attacks" on the peninsula.
Per Russian state media, other Kremlin officials weighed in even more forcefully, warning that even a nuclear disaster could be the result:
Sullivan's remarks likewise triggered outrage from Crimean Deputy Prime Minister Georgy Muradov, who opined that by allowing Ukraine to use US-made planes to target the peninsula, the White House had "agreed to unleashing a nuclear war."

The official recalled that Crimea hosts Russia's Black Sea Fleet. "An attack on one of the pillars of Russia's strategic security legally obliges our country to use all available means to prevent it from being undermined."
Russia has also recently accused Ukrainian forces of using UK-supplied long-range rockets which are capable of hitting inside Russia.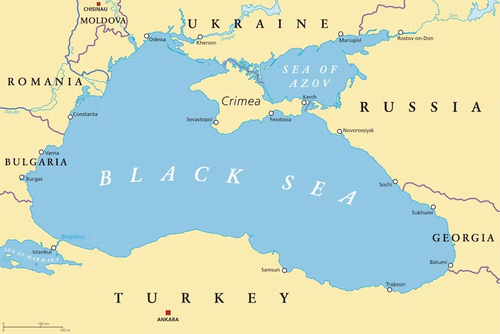 This is also a cause for concern in terms of possible Russia-NATO direct escalation: "Storm Shadow missiles, which have a range of more than 250 kilometers, give Ukraine the capacity to strike well behind Russian front lines and as far as Moscow-occupied Crimea," US state-funded RFERL underscores while adding that "British media reports said Kyiv had promised not to use the missiles to strike inside Russia's territory."