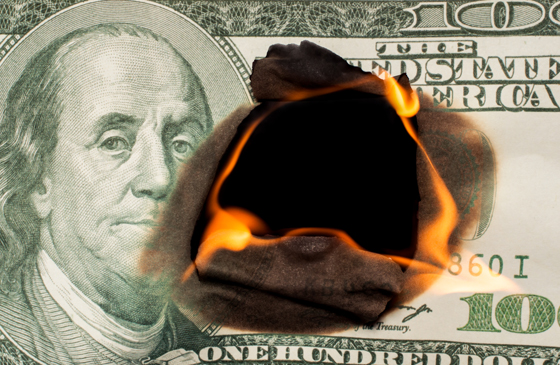 The great dollar dump is upon us. Russia is now taking major steps to move away from the United States dollar. We just might see the collapse of the dollar, as other countries also bail on the greenback.
According to RT, the share of U.S. sovereign debt bonds in Russia's portfolio has been reduced dramatically in recent months. Russia held $96.1 billion in U.S. Treasuries in March before selling half its holdings in April, dropping to 22nd place among major foreign holders of American treasury securities at $48.7 billion. Only eight years ago, in 2010, Russia was one of the top holders of U.S. debt. With its holdings falling to $14.9 billion in May, the country is now below the $30 billion threshold for inclusion on the Treasury Department's monthly report of major holders.
A treasury bond is a fixed-interest government debt security with a maturity of more than 10 years. Treasury bonds make interest payments twice a year. The gradual sell-off of US sovereign debt started in 2011, and has intensified over recent years amid numerous rounds of sanctions imposed by the White House against Russia. –RT
In the meantime, Russia's gold holding continue to increase. Their share of gold has risen to its highest level in nearly two decades. Russia's gold holdings in May grew by one percent to 62 million troy ounces, worth $80.5 billion, according to the CBR. According to Russian Central Bank Governor Elvira Nabiullina, gold purchases helped to diversify reserves. "In terms of the share of gold, actually we are not holding the records because there are countries that have a bigger share of gold in their reserves," Nabiullina said. That begs the question: should we all be investing in gold?
Should we all invest in gold now? https://t.co/OOiQhmZj8H

— RT (@RT_com) April 20, 2018
Maybe. What does Russia know that our government and media refuse to say? The trade war with China likely has something to do with all of the problems the dollar is having.  In fact, some financial gurus say that the dollar is so weak it cannot withstand a trade war.
Global geopolitical conflicts along with the trade tensions have made some other countries follow suit as well. Turkey nearly cut its US Treasury holdings in half; from almost $62 billion in November to $32.6 billion in May. Germany has also taken steps to reduce its holdings from $86 billion in April to $78.3 billion in May.