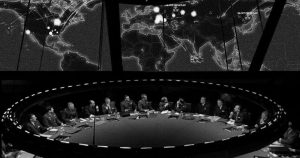 Russia has confirmed that its nuclear forces are on alert after the West's reaction to their "invasion" of Ukraine.  Russia's ground units, which are equipped with intercontinental ballistic missiles, as well as vessels from the Northern and Pacific Fleets, are on high combat alert.
The Russian Defense Ministry confirmed on Monday that the Russian Navy on alert includes submarines armed with nuclear missiles. According to a report by RT, the ministry said the move was made in accordance with the order issued by President Vladimir Putin on Sunday. Putin cited "illegitimate sanctions" against Russia and "aggressive statements" by Western officials, without elaborating.
The sanctions could cripple Russia's economy making retaliation much more likely. Moscow claimed that the attack launched on early Thursday morning was necessary to defend the Donetsk and Lugansk People's Republics, which broke off from Ukraine shortly after the 2014 coup in Kyiv. Ukraine said the action was entirely unprovoked, called it an "invasion" and appealed to the international community for help, to which the international community has responded.
According to a report by Aljazeera, no ground was made during talks between Kyiv and Moscow yesterday. An aide to Russian President Vladimir Putin said talks with Ukrainian officials lasted nearly five hours and another round of talks was agreed to.  Reporting from Lviv in western Ukraine, it was said that it was "no surprise"  that a breakthrough hadn't been reached, and there was "no sign that either side has moved their goalposts."
George Soros has also reemerged to opine that the United States should get involved in another war.
I have witnessed Ukraine transform from a collapsing part of the Soviet Union to a liberal democracy and an open society. It has faced countless acts of Russian aggression, but has persisted.

— George Soros (@georgesoros) February 26, 2022
It is important that both the transatlantic alliance (the United States, Canada, the European Union, and the United Kingdom) but also other nations do whatever is in their power to support Ukraine in its time of existential threat.

— George Soros (@georgesoros) February 26, 2022
According to a report by Breitbart, Soros's urging more U.S. involvement in Ukraine comes as President Joe Biden has announced that he will send another round of American troops to Germany. The total number of American troops deployed to aid in the Ukraine-Russia conflict now stands at about 12,000. Biden is also asking U.S. Customs and Border Protection (CBP) officers to volunteer to leave their posts at the southern border for deployment to Poland.
This situation is far from over. Stay prepared for anything.