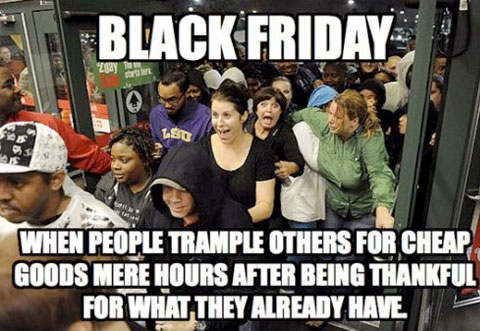 It's the most wonderful violent time of the year.
As the Sheeple lined up and mobbed retail stores after Thanksgiving dinner and early Friday morning for deals to kick off the holiday season, one person has already been shot, fights have shut down malls, and a baby (!) was hit with a shoe.
Many people lost all sense of perspective as they got caught up in it at Walmart, Macy's, and other stores during this grim holiday tradition in American stupidity.
Absolute insanity…
Police had to step in to break up this madness..the crowd was threatened with Tasers and pepper spray…
Videos of fights are being posted on social media by the minute, and #BlackFridayFights is already trending on Twitter. Users are uploading footage of what they've witnessed so far today…
JUST IN: @HooverPD say they responded to several reports of fights at the Galleria Thursday night. Here's video of one incident outside the Buckle store. More on @WBRCnews this morning. pic.twitter.com/UZEZQGykGE

— Clare Huddleston (@Fox6Clare) November 24, 2017
Yal wanted Black Friday fights here ya go ? pic.twitter.com/HUkJZV2nME

— Koonce (@koonce53) November 24, 2017
Mark Dice recorded footage of Black Friday zombie shoppers waiting in line outside of stores – in the dark…
If that's how people react over sales and 'insane deals' on household items…. how do you think they will react when the economic collapse hits home and people become truly desperate?
If you dare to venture out today, may the odds be ever in your favor.