We are likely just 24 hours away from a Grand Jury decision in the officer involved shooting of Michael Brown in Ferguson, MO.
Scores of Department of Homeland Security vehicles have been spotted 25 minutes outside of town and the Governor of Missouri has already declared a state of emergency in anticipation of the fallout should officer Darren Wilson be exonerated. National Guard units have been called up and one law enforcement official has advised residents to be armed because the police department will not be able to protect the town's citizens should violence erupt.
And violence is exactly what we should expect – more specifically, violence against Caucasians and their children. Two recently recorded videos have surfaced from the Ferguson area showing activists and protesters who are developing a strategy for how they will engage in civil disobedience and who they will target.
As Brian Hayes of Top Right News notes, "they are making plans to focus on White areas — and are threatening to target police officers, and even their families."
In fact, the protesters in Ferguson have as one of their lead organizer a woman by the name of Lisa Fithian, who was partly responsible for organizing the violent protests known as the Battle In Seattle during the 1990's. In a video recorded several days ago and posted by Progressive Today and The Gateway Pundit Fithian explains to those in the audience that they need to be targeting areas where the residents do not look like them:
"Personally, I think we DONT need to be on West Florissant. I wanna advocate that we go on South Florissant because the people on South Florissant don't look like me. The people on West Florissant look like me and they're with it. So… I really don't have anything to protest on West Florissant. So if I'm in the area I'm going to Ferguson Police Department."
But as Bryan Hayes highlights, this isn't the only organizer looking to target whites. In fact, one Palestinian protester directly threatens police officers, as well as their families:
"You will never be safe, never in your life. None of you. Not you, not your children  – none of you will be safe."
During the height of the protests following Michael Brown's death President Obama sent Attorney General Eric Holder to investigate civil rights violations.
Now that the targets for the coming mass protests have become white people, will Obama act again to ensure the peace? Or does that only apply when racism affects African Americans?
Whatever the case, should the decision be in favor of Darren Wilson then we may well see riots across the country that surpass the violence and destruction we saw in Detroit in 1967 or Los Angeles following the Rodney King verdict in 1992.
(You can see historical archives of some of the most widespread and violent riots in American history here)
For those resident in the immediate St. Louis area, you should already be prepared for civil unrest. But, this may not be limited to just Missouri. There are "direct action trainings" taking place across the country and reports indicate that as many as 83 cities are being targeted by protesters.
Given the direct action training being provided by the likes of Lisa Fithian, it is not unreasonable to suggest that the targets of these protests, riots and possibly violence will be white people, including children.
Officials have warned resident to be prepared for a period of disruption.
Step number one should be personal and perimeter defense, and that starts with firearms. As noted previously, those who were armed during the first round of Ferguson riots had nothing to worry about:
It turns out that when violent looters come face to face with people prepared to kill to defend their property, the looters tend to choose a 'safer' target.
Here are some tips and strategies to consider:
Here is a general list of supplies to have on hand. Remember that sometimes power supplies are lost during situations like this. Occasionally officials do this to gain more control over the populace and sometimes it happens as a side-effect of the wholesale destruction by the rioters. Keep the potential for a down-grid situation in mind when preparing.

Water (1 gallon per person per day)
Necessary prescription medications
A well stocked pantry – you need at least a one-month supply of food for the entire family, including pets
An off grid cooking method (We have charcoal barbecue, an outdoor burner, and a woodstove inside)
Or food that requires no cooking
A tactical quality first aid kit
Lighting in the event of a power outage
Sanitation supplies (in the event that the municipal water system is unusable, this would include cleaning supplies and toilet supplies)
A way to stay warm in harsh winter weather
Over-the-counter medications and/or herbal remedies to treat illnesses at home
A diverse survival guide and a first aid manual(hard copies in case the internet and power grid are down)
Alternative communications devices (such as a hand-crank radio) so that you can get updates about the outside world
Off-grid entertainment:  arts and craft supplies, puzzles, games, books, crossword or word search puzzles, needlework, journals
We urge our readers, regardless of your skin color or location, to be vigilant. When the violence breaks out no one will be immune. Stay off the streets if riots or protests erupt in your city if at all possible.
Otherwise, move quickly, don't attract attention and be prepared to defend yourself with deadly force.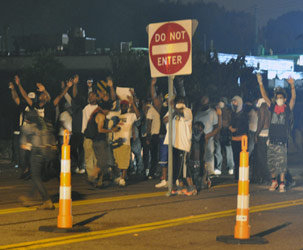 Related Resources:
The Prepper's Blueprint: Prepare for Any Disaster
Total Breakdown in Less Than 24 Hours