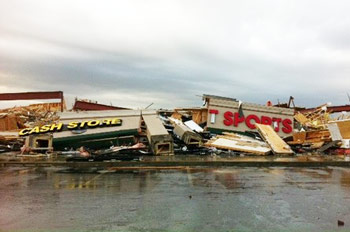 The retail apocalypse is upon us and after hitting all-time record high levels of store closures, the pace has accelerated. Hundreds of thousands of workers have already lost their jobs in the past decade thanks to store closures, and that number is going to skyrocket in the very near future.
According to a report by Business Insider, more than 6,100 stores have been slated for closure so far in 2019, already exceeding last year's total number of closures. The states hit hardest by retail job losses or layoffs over the last decade are West Virginia, Vermont, Rhode Island, Ohio, Connecticut, and Maryland.
Not only does there appear to be no end in sight for this epidemic accurately dubbed the "retail apocalypse," store closures are expected to pick up the pace as we inch toward 2020. Retailers are expected to close roughly 9,000 stores this year, followed by another 12,000 stores in 2020, according to estimates from Cushman & Wakefield.
Record-high store closures, bankruptcies, and liquidations have occurred due to these establishments' inability to manage their debt.  Most of these stores bit off more than they could chew are now facing the consequences of their actions.
https://www.shtfplan.com/headline-news/the-next-financial-crisis-catalyst-mountain-of-corporate-debt_04152019
On the other end of the spectrum, Washington, Utah, and Washington, DC have all seen retail job growth of at least 20% in the same time period. But while some states have seen some growth, nationwide, closures are outpacing openings.
More than 8,000 stores closed in the US in 2017, setting an all-time record for the number of stores that have closed in a single year, according to the real-estate-services firm Cushman & Wakefield. Another US record was smashed in 2018, as the amount of retail square footage that went dark soared to new heights, according to CoStar Group, another commercial-real-estate firm.

2019 is now on pace to set new records. –Business Insider
Although it seems like it cannot get much worse, the retail apocalypse was bound to happen.  YouTube channel Money GPS has repeatedly reported on the problems in the retail sector of the United States economy.
The absolute fact is that e-commerce and online retail is only minimally to blame for these stores' demise. Money GPS said: "E-commerce accounts for approximately 10% of retail sales in the U.S. today. That's hardly a large percentage of the total."  Massive unpayable levels of debt and therefore, bankruptcy are taking a toll on these American retailers.