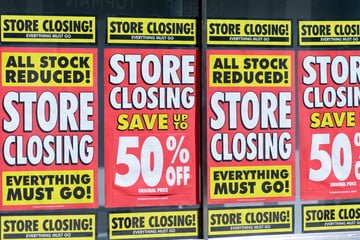 As the retail apocalypse continues to accelerate as we inch toward the middle of 2019, many in the mainstream media seem content to ignore the major problem: debt.  The companies closing stores did have the disadvantage of keeping up with Amazon, but the real problem is that the debt load got to be too much, and they filed bankruptcy.
E-Commerce (or online sales) represented only 14.3% of all consumer sales in 2018.  That's up, but only minimally from 12.9% in 2017 and 11.6% in 2016. These statistics are hardly worth mentioning, however, all of these stores closing had one bigger elephant that no one seems able to talk or write about: massive debt.  They simply bit off more than they could chew.  The Washington Post, for example, was content to blame the entire "accelerating" retail apocalypse on online sales. Articles that do mention the overloading of debt are barely scratching the surface.
The E-commerce sales are not enough to put stores out of business, but couple that slight loss in sales (even though it wasn't much as retail consumer spending jumped as well) with the massive debt load these corporations have taken on and we have a retail apocalypse.  This very issue shows just how dangerous debt can be.
Shopko's undoing was their debt load.  According to Money.com, Shopko announced in mid-January it was filing for Chapter 11 bankruptcy and restructuring debt. While trying to stay afloat, the struggling retailer said over the past few months that it would be closing about 250 stores. Plans changed mid-March when Shopko said it would liquidate all of its assets and close all of its stores by June 2019.
Brian Kelly, president of retail consultancy firm Brian Brands, explained to RetailDive.com at the end of 2018, when Shopko had just announced it was closing a few dozen stores. "[Shopko is] another retailer broken by debt and … caught in the death spiral."  
Average Americans continue to overspend and are also still taking on debt as many are becoming tapped out 
https://www.shtfplan.com/headline-news/mega-retailers-close-stores-hard-to-shop-when-people-are-just-trying-to-pay-their-mortage_02262016
The entire retail apocalypse was set off by the growing problem of corporate debt and the debt-based system we live in. Analysts are predicting 75,000 more stores will be closing by 2026. According to Forbes, in an analysis from UBS, it finds that with each 1% increase in online penetration, some 8,000 to 8,500 stores will need to close. At online sales current rate that means some 75,000 stores will be forced out of business by 2026, or about 7% of the 1,044,754 retail establishments in the United States today, according to data from the Bureau of Labor Statistics.
During one particularly dramatic 24-hour period in early March, J.C. Penney, Gap, and Victoria's Secret announced they would be closing more than 300 stores combined. Sears Holdings, which operates Kmart and its iconic Sears flagship department stores, has also been struggling to survive, and many believe it won't last through 2019. –Money.com