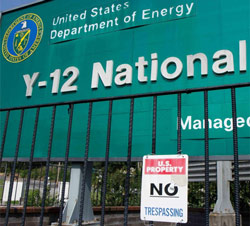 Across the United States there exist numerous facilities at which nuclear fuel is manufactured and stored, including highly enriched uranium (HEU). According to experts, even someone with rudimentary skills could utilize this HEU fuel to create a nuclear weapon capable of leveling a major U.S. city.
You would think that after the destruction of the world trade center, thousands of deaths and hundreds of billions of dollars spent that the Department of Homeland Security would have made securing these facilities a top priority.
But you'd be wrong.
A new report from Harvard University underscores just how ripe with security holes and ineptitude these facilities really are. So much so that recently an 82 year-old nun and two of her cohorts compromised one of these locations with tools as simple as a pair of bolt cutters and a couple of hammers. What's more is that the facility cited in the report is one that nuclear security experts refer to as the "Fort Knox of Highly Enriched Uranium" – the Y-12 Oak Ridge, Tennessee National Security Complex.
In the early morning hours of July 28, 2012, an 82 year-old nun and two other protesters broke into the Y-12 nuclear weapons production facility—sometimes referred to as the Fort Knox of HEU—in Oak Ridge, Tennessee. Equipped with hammers, paint, blood, and a pair of bolt cutters, they cut through four fences—three of them with intrusion detectors—setting off alarms, and traversed a 600-meter semi-wooded area until they arrived at the wall of a building housing hundreds of tons of HEU, enough for thousands of nuclear weapons. They painted blood on the walls, sang songs, and pounded on the building with their hammers, before finally being accosted by a single guard. Fortunately, they were not terrorists armed with explosives and did not mean any harm (and the building has specially designed walls that would be very difficult for terrorists to penetrate, along with extensive interior protections). But later investigations revealed a security culture failure of epic proportions, not only in the intrusion but also in the response.

How could this happen? The subsequent investigation of the incident by the Department of Energy (DOE) Inspector General revealed "multiple system failures on several levels" and "troubling displays of ineptitude" in Y-12's security practices. For example, it turned out the site had a new intrusion detection system, which was setting off ten times as many false alarms as usual. Normally, the guard at the central alarm station could check if an alarm was caused by a real intruder using cameras along the fence—but the cameras had been broken for months. They had not been put on the priority list to be fixed, on the assumption that guards could always check out the alarms; but it appears that with so many false alarms, the guards had grown weary of investigating. For whatever reason, even a series of alarms on a path leading directly to the HEU building was not enough to prompt the guard at the central alarm station to take more serious action. The heavily armed guards inside the facility heard the hammering and thought it might be construction they had not been told about, even though it was before dawn, and did not bother to check.

In short, there was a profound breakdown in security culture—among those who tolerated an intrusion system setting off ten times as many false alarms as usual, among those who did not bother to fix the cameras, among the guards who did not react to the alarms or the hammering, and eventually in the armed response to the intrusion.

Perhaps even more troubling, prior to the intrusion, officials at DOE headquarters thought of Y-12 as one of their most secure sites, and had no idea such a serious erosion of security practices had occurred. Tom D'Agostino, then-administrator of the National Nuclear Security Administration (NNSA), warned that "this incident raises important questions about the security of Category I materials [those requiring the highest level of security] throughout the DOE complex."

Full Report: Advancing Nuclear Security: Evaluating Progress and Setting New Goals (PDF)
The Department of Homeland Security insists that it is a necessary component of the national security apparatus.
They've certainly found time to weave a massive surveillance web across this country to record the digital interactions of every single American. They've highlighted the existence of serious threats emerging from domestic lone wolves who engage in activities such as  making cash purchases, storing emergency supplies, or purchasing bulk ammunition. And these days everyone from a guy producing his own silver coins to kids making gun gestures with their fingers is accused of engaging in terrorist activity.
But when it comes to weapons of mass destruction it seems like no one in government really cares.
This report, yet again, brings to question the purpose of all the added security measures being forced upon the American people.
If national security is such a top priority of DHS and other agencies, then why is it that our Southern border remains so porous that individuals from countries like Iran and Afghanistan, some of them with possible ties to mid-east terrorist organisations, have been nabbed over the last several years trying to make their way into the United States?
How is it that critical utility infrastructure components like water reservoirs and electrical sub stations remain susceptible to even basic attacks?
And how, in a world where terrorism and improvised weapons are the typical method of attack, can supposedly highly secured nuclear facilities be broken into by a nun with bolt cutters?
An objective observer would have to conclude that protecting the United States from terrorists of the al-Queda Jihadi influence is not at all what these initiatives are all about.
Seriously, is anyone at DHS or the rest of our federal agencies paying attention to the real threats to our national security?