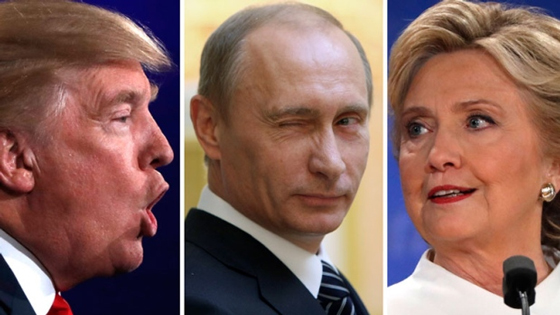 So much for the Russian hacking story. If the following exclusive report from The Daily Mail is true, then the entire Clinton narrative just fell apart.
A Wikileaks envoy today claims he personally received Clinton campaign emails in Washington D.C. after they were leaked by 'disgusted' whisteblowers – and not hacked by Russia.

Craig Murray, former British ambassador to Uzbekistan and a close associate of Wikileaks founder Julian Assange, told Dailymail.com that he flew to Washington, D.C. for a clandestine hand-off with one of the email sources in September.

'Neither of [the leaks] came from the Russians,' said Murray in an interview with Dailymail.com on Tuesday. 'The source had legal access to the information. The documents came from inside leaks, not hacks.'

His account contradicts directly the version of how thousands of Democratic emails were published before the election being advanced by U.S. intelligence.

…

He said the leakers were motivated by 'disgust at the corruption of the Clinton Foundation and the tilting of the primary election playing field against Bernie Sanders.'

Murray said he retrieved the package from a source during a clandestine meeting in a wooded area near American University, in northwest D.C. He said the individual he met with was not the original person who obtained the information, but an intermediary.
It has been rumored that DNC staffer Seth Rich may have been murdered on a D.C. street for his role in releasing documents to Wikileaks. Though no official confirmation has been provided from Wikileaks as to the source, an August interview with Julian Assange suggests that people have been killed as a result of the information leaked to the organization, including quite possibly Seth Rich.
Craig Murray's claims of direct DNC whistleblower involvement is not the only revelation to have be released regarding the supposed "sophisticated hacking" originating from Russia. It appears that the John Podesta emails, which have led to countless reports on #Pizzagate and the corruption underlying the American political system, had nothing to do with a sophisticated operation as first claimed. According to liberal mouthpiece The Huffington Post, that "hack" occurred as a result of a typo by an IT technician when Podesta clicked a standard phishing email:
Most adult internet users know by now never to click a link in emails like this ― phishing is fairly common. Even unsophisticated tech types are hip to the scam. So, before responding, Podesta's aide showed the email to another staffer, a computer technician.

And, well, what happens next should be a lesson to anyone who types and sends emails and texts without reading them first. (That's everybody who emails and texts.)

From the Times (bolding is HuffPost's):

"This is a legitimate email," Charles Delavan, a Clinton campaign aide, repliedto another of Mr. Podesta's aides, who had noticed the alert. "John needs to change his password immediately."

With another click, a decade of emails that Mr. Podesta maintained in his Gmail account — a total of about 60,000 — were unlocked for the Russian hackers. Mr. Delavan, in an interview, said that his bad advice was a result of a typo: He knew this was a phishing attack, as the campaign was getting dozens of them. He said he had meant to type that it was an "illegitimate" email, an error that he said has plagued him ever since.
And just like that, any and all claims of Russian hacking have just been utterly discredited.
Also See: "There is a plan to steal the election from the American people and Trump" — C.I.A. pushing for new election?