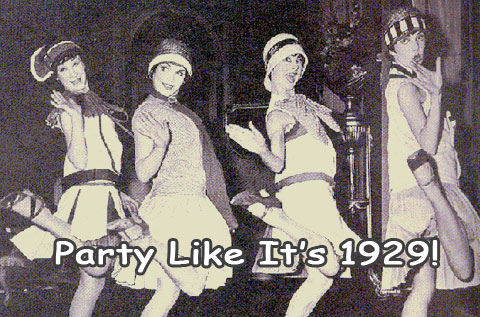 For those who think the U.S. economy is going under, a report from Reuters suggests you're just peddling fiction.
According to official data there is nothing to worry about. We are not only not in recession, but the economy is fundamentally strong and only getting stronger.
Relatively strong consumer spending underscores the economy's underlying strength and should further allay fears of a recession, which triggered a massive stock market sell-off early this year.

…

"The consumer is back in the driver's seat. There is no sign of recession in these data so this will put a smile on Fed officials' faces and argues for their policy of gradual interest rate normalization to continue," said Chris Rupkey, chief economist at MUFG Union Bank in New York.

GDP growth was initially estimated to have risen at only a 0.7 percent rate. The economy grew at a 2.0 percent pace in the third quarter and expanded 2.4 percent for all of 2015.

Consumer spending, which accounts for more than two thirds of U.S. economic activity, rose at a 2.4 percent pace and not the 2.0 percent rate reported last month. More consumption of services than previously estimated accounted for the revision.
Though at first glance this report may sound convincing, as is normally the case with official data and the mainstream propaganda that follows, some key points have been ignored.
First, while the economy officially grew at a rate of 2.0%, when you adjust for built-in upside bias to official reporting according to ShadowStats.com, we actually had a negative growth rate of nearly -2.0%.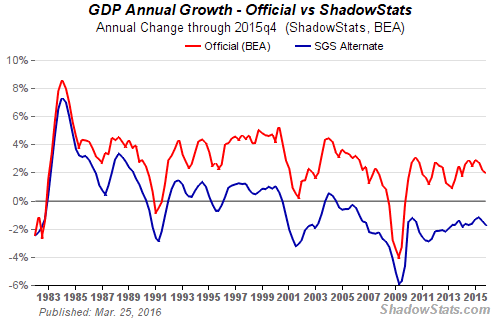 Second, as Michael Snyder recently noted, some 23% of Americans in their prime working years are currently unemployed, so we've seen absolutely no real jobs recovery and those jobs that have been created are generally low-paying:
When you look at only Americans that are from age 25 to age 54, 23.2 percent of them are unemployed right now.  The following analysis and chart come from the Weekly Standard…

"There are 124.5 million Americans in their prime working years (ages 25–54). Nearly one-quarter of this group—28.9 million people, or 23.2 percent of the total—is not currently employed. They either became so discouraged that they left the labor force entirely, or they are in the labor force but unemployed.This group of non-employed individuals is more than 3.5 million larger than before the recession began in 2007," writes the Republican side of the Senate Budget Committee.

…

Clearly, we have never recovered from the impact of the last recession.
So if this many Americans are unemployed and wages are dropping nationwide, where is the consumer getting the money to boost spending by 2.4%?
The answer comes to us directly from the Federal Reserve's latest G.19 Consumer Credit report.
According to the Fed, revolving consumer debt increased a whopping 5.6% during the fourth quarter of 2015, which means that the GDP growth rate and consumer spending growth was largely driven by… you guessed it, debt.
The government and our central bank will continue to play these games until such time that a majority of Americans end up jobless, starving and without future prospects as the middle class is slowly but surely wiped out.
We are already seeing the cracks, as evidenced by a recent report that Walmart Customers Are Too Broke To Shop.
As trend forecaster Gerald Celente once warned, when that day comes and people have lost everything and have nothing else left to lose, they will lose it.
We are being told that whatever issues there may have been are now largely resolved. But just as was the case in the months leading up to the crash of 2008, the signs are everywhere. And just as happened in 2008, the Panic will hit with full force, much to the surprise of most:
So, what happens when the Panic of 2016 happens?

The Panic of '08 helped wipe out the middle class… this is going to eliminate it to a large degree, because they're deep in debt…

…

The markets have been artificially juiced up… so when this thing comes down it takes the top down… the last time it pulled out the bottom… so this is going to be a top-down crash.

And there's not going to be anything to pump it back up because they've blown all their ammunition…
We encourage our readers to prepare accordingly.
Also Read:
Trend Forecaster Gerald Celente Warns: Prepare For The Panic Of 2016: "History Will Remember This"
Venture Capitalist Says Investors Are Terrified Of Market Volatility And Weak Economy: "They Are Scared And Don't Know What To Do"
This Is How Bad The Economy Really Is: "Walmart Customers Are Too Broke To Shop"