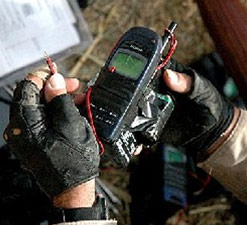 In the aftermath of the San Bernardino massacre we noted that the available information at the time suggested that there were more people involved than just Farook and Malik. Though the FBI along with their mainstream mouthpiece were careful not to implicate Islamic terrorists and instead chose to refer to the incident as an act of "workplace violence," The Daily Sheeple reported within hours that police scanners identified one of the suspects as a male of middle eastern descent.
As more information became available it became clear that the attack was inspired by the Islamic State, that more people were likely involved and that the intent here was premeditated Jihad. We made a similar assessment following the Parisian attacks, noting that unbridled immigration into the European Union meant that scores of terrorists were likely hiding among the migrants. That assessment has now been confirmed, as within the last 24 hours authorities in Switzerland arrested two Syrian passport holders for the transportation of explosives and toxic gases. Moreover, their counterparts in France last week seized "a lot" of war-grade weapons during raids on mosques and residences.
And while many Americans may think that San Bernardino was an isolated incident for which widespread firearms bans are the solution, the fact is that terror cells are actively operating on U.S. soil.
The latest incident that highlights just how serious the terror threat may be comes from Missouri, where witnesses report that a number of foreign speaking males have purchased as many as 100 disposable cell phones from at least three separate Walmart locations, but possibly as many as six. And if that's not enough, also in Missouri, police report that scores of propane tanks have been stolen from various locations.
Missouri police are investigating after at least 100 cellphones were purchased at three Walmarts during the past week

….

"It's not right, it doesn't make any sense," a witness, who did not want to be identified, told ABC 17 about a sale in Columbia. "Who's going to order 50 phones for Christmas? Who does that?"

The first reported purchase happened Friday night, when several men bought dozens of phones around 9:30 p.m. at a Columbia Walmart, ABC 17 reported. The men paid in cash, according to a witness.

Then, just before 4 a.m. on Saturday, two men bought about 60 phones in Lebanon, according to KSPR. Police were called and interviewed the men, but did not detain them.

"These people were, they were foreign-speaking," said Laclede County Sheriff Wayne Merritt, who encouraged citizens to call the cops if they observed odd activity. "You need to take notice. You need to let us know about it, because it doesn't hurt to check on it. You're not being racist or anything like that. You're just protecting yourself."

Via Fox News
Utilizing disposable cell phones is a tried and true method for drug dealers to keep police of their scent, but even they know to make their cell phone purchases in small quantities. Further, the cell phones purchased in Missouri were reportedly purchased by foreign speaking men.  This suggests that someone may be looking to keep their communications hidden from intelligence agencies.
Couple that with reports of propane tanks being stolen in Missouri and it's quite possible that someone is planning an attack, perhaps even utilizing their newly acquired cell phones to detonate improvised explosives devices remotely:
A large number of propane tanks have been stolen from several locations near Kansas City.

WDAF-TV reports that a BP gas station in Lee's Summit had 18-20 tanks stolen from outside cages last month. A CVS reported the same crime on the same night. Two weeks later another CVS in Independence was hit and 28 tanks were stolen from that location.

The FBI says it is up to law enforcement to connect the dots.
There are, of course, any number of reasons for why someone might want to steal a bunch of propane tanks and killing innocent civilians is one of them. Considered with the cell phone purchases in mind, connecting the dots may not be that difficult of a challenge. Even on their own the bulk cell phone purchases themselves are highly suspicious, especially if the people who purchased them didn't speak English.
Regardless of the above, one thing is for certain: there are terrorist cells operating in America right here and now.
The connections that the San Bernardino terrorists had with others who knew of their activities confirm this. Second, we know for a fact that individuals with ties to terrorist have crossed into the United States via our porous Southern border. This has been confirmed by law enforcement personnel and most recently by the capture of at least eight Syrian refugees in Texas.
Right now somewhere in America those who mean to do us harm are actively planning, collaborating and preparing for Jihad operations. Those operations are designed to kill as many people as they can including you, your family members and friends.
The time for platitudes and half-measures is over. It's time for Americans to prepare for worst case scenarios – including but not limited to eliminating a terror threat in real time should it happen to you.
As controversial Presidential candidate Donald Trump has warned, "we are at war." That is the mindset we must have should we ever come face-to-face with a Jihadist.
They are prepared for war.
Are you?
[Image Credit: Captured by U.S. Army 1st Lt. Chris Heathscott, the above image shows an improvised cell phone trigger device seized during a raid in Taji, Iraq in 2004. Via Blackfive)
Also Read:
Prepare For Anything: A Step-By-Step Guide
More Attacks Are Coming: "The Intent Here Was Jihad And It Was Carefully Premeditated And Planned"
Chemical Weapons Plot Foiled In Switzerland; War-Grade Weapons Seized in France
Report: Terrorists Captured At Mexico Border… But Homeland Security Denies Any "Credible Threats"