This report was originally published by Paul Joseph Watson at Infowars.com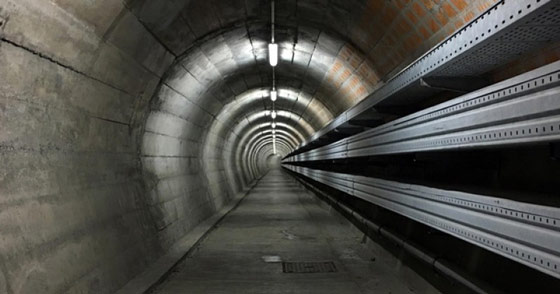 Sweden is re-activating thousands of Cold War bunkers across the country as fears of a military confrontation with Russia build.
Shelters on the Baltic Island of Gotland will be prioritized for comprehensive checks after it was identified as a likely target for Russian invasion last year. Sweden's most populous island has been the site of a dramatic build-up of military training more than a decade after being demilitarized.
In light of the "special situation," inspections of hundreds of underground shelters in Gotland will be stepped up, according to Swedish Radio.
Sweden spent $9 billion dollars during the Cold War to build enough nuclear bunkers to shelter 80 per cent of its people, although many have fallen into disuse while the country's population has grown by more than a million over the last two decades.
MSB CIO Svante Werger called for defense installations that were in use up until the early 90s to be re-activated in order to meet "updated defense guidelines," reports Sputnik.
Earlier this month, Sweden announced that it would re-introduce compulsory military service from 2018, eight years after it was abolished.
The new policy will affect all Swedes born after 1999 and is being revived in order to address a shortage in both "quantity" and "quality" of soldiers.
Back in December, the Swedish Civil Contingencies Agency (MSB) urged the country's municipalities to prepare for dislocation, with security heads being ordered to be "better equipped to meet the threat of war and other crisis situations."
Preparations to guard against an armed attack from a "qualified opponent," meaning Russia, have been enhanced in recent months, although officials complained that there was no clear cut plan on how to provide vaccines, gas masks or fuel in the event of a crisis.
SUBSCRIBE on YouTube:
Follow on Twitter: Follow @PrisonPlanet
Facebook: https://www.facebook.com/paul.j.watson.71
*********************
Paul Joseph Watson is the editor at large of Infowars.com and Prison Planet.com.
Related Reading:
How To Protect Yourself In A Nuclear Emergency
Retired Russian Colonel Warns Trump: "We're Seeding The US Shoreline With Nuclear Mole Missiles"
Global War Approaches: North Korea Warns: "If A Single Bullet Is Fired We WILL Nuke The United States"
Who Would Launch A Nuclear Strike First – The United States Or North Korea?