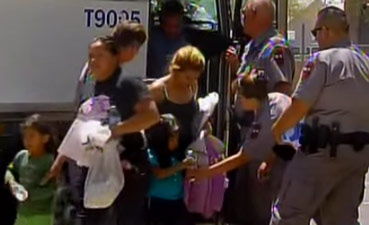 Why walk through a desert to get to the United States when you can just fly?
That's the new policy being adopted by the Obama administration for illegal alien children whose parents want them to come to the United States. As long as the parent maintains any kind of legal status they can apply to have their child picked up in central America and flown to the U.S. to be reunited.
Millions of children may qualify for the program under refugee status. And because of the refugee designation, once the children arrive in America their families can apply for tax-payer funded "family reunification benefits" that include education, food stamps, medical care and other living expenses.
When asked about the price tag for the program a White House spokesperson said they don't really know, but they say the new policy is a "safe, legal and orderly alternative to the dangerous journey that some children are undertaking to the United States."
Tom Fitton of Judicial Watch brings up the obvious question:
When you look at this program you have to wonder… why is there a border anyway?

(Hattip Gateway Pundit & Infowars)
For illegal immigrants things just got a lot easier.
All that needs to happen now is for one parent to put their foot across the border. Since U.S. border patrol agents have been told to just let illegal aliens go (even drunk drivers), once they're here they can apply for any number of "legal" statuses and have their families flown in.
They will, of course, never be deported because doing so to an entire family would be inhumane.
As Americans struggle to find jobs, keep food on their tables and pay forced health care mandates, the Obama administration is planning on granting amnesty to millions of people that, when they get here, have no ability to provide for themselves and no hope of finding a job in a country where over one-third of the population is no longer in the workforce.
The money will have to come from somewhere and it turns out that your pocket is that "somewhere," because President Obama and supporters of these new policies say that we have a social responsibility to care for all Americans, even the ones that just got here yesterday.
Related Reading:
Watch: How Liberals React When Asked to House An Illegal Immigrant Child In Their Homes
Immigration End Game Revealed: New Law Would Give Illegal Immigrants The Right To Vote, Collect Government Benefits
Illegal Immigration And Gangs: Someday Our Cities Will Burn Because We Didn't Protect Our Borders