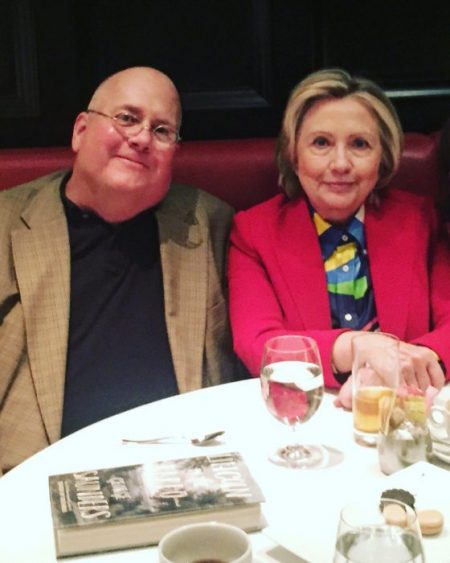 Liberal feminist icon and failed presidential candidate Hillary Clinton protected one of her senior advisers during her 2008 presidential campaign after he was accused of repeatedly sexually harassing a young staffer, according to a bombshell new report in The New York Times.
The report, supposedly sourced by four different people familiar with the matter, details the allegations against Clinton faith adviser Burns Strider and the shocking fact that after his young subordinate came forward, Clinton herself apparently stepped in to keep him on her campaign while moving his alleged victim elsewhere.
The Times wrote:
Mrs. Clinton's campaign manager at the time recommended that she fire the adviser, Burns Strider. But Mrs. Clinton did not. Instead, Mr. Strider was docked several weeks of pay and ordered to undergo counseling, and the young woman was moved to a new job.

Mr. Strider, who was Mrs. Clinton's faith adviser, a co-founder of the American Values Network, and sent the candidate scripture readings every morning for months during the campaign, was hired five years later to lead an independent group that supported Mrs. Clinton's 2016 candidacy, Correct the Record, which was created by a close Clinton ally, David Brock.

He was fired after several months for workplace issues, including allegations that he harassed a young female aide, according to three people close to Correct the Record's management.

Mr. Strider did not respond to multiple requests for comment.

Those familiar with the accounts said that, over the years, a number of advisers urged Mrs. Clinton to sever ties with Mr. Strider, and people familiar with what took place did not want to see Mrs. Clinton blamed for the misconduct of men she was close to.
The allegations that Clinton specifically helped cover up sexual harassment while remaining close friends with the alleged attacker come at a time when women across industries throughout the country are coming forward with their stories of abuse and, in many cases, coverup afterwards.
The woman's experience and the reaction to it have not been previously reported. Until now, former Clinton associates were unwilling to discuss the events for publication.

But that changed in the wake of the #MeToo movement, in which dozens of men across the country and across different industries, have been fired or suspended for sexual misconduct.

The complaint against Mr. Strider was made by a 30-year-old woman who shared an office with him. She told a campaign official that Mr. Strider had rubbed her shoulders inappropriately, kissed her on the forehead and sent her a string of suggestive emails, including at least one during the night, according to three former campaign officials familiar with what took place.

The complaint was taken to Ms. Doyle, the campaign manager, who approached Mrs. Clinton and urged that Mr. Strider, who was married at the time, be fired, according to the officials familiar with what took place. Mrs. Clinton said she did not want to, and instead he remained on her staff.
So not only did Clinton herself protect Strider, her own staff, who were completely aware of his conduct, refused to even speak about it for almost 10 years in order to protect Hillary and her political ambitions.
This is the Clinton machine at its finest folks and once again destroys the false media narrative surrounding who Hillary Clinton the person actually is.
One can imagine that Clinton operatives within the media will soon begin to downplay this shocking report while somehow blaming Donald Trump.
Mark it down. This will happen.