Editor's Note: If true, the following report from Paul Joseph Watson proves yet again that President Obama's promises of transparency and giving every American a voice were nothing but political rhetoric. One promise that he has made good on is that he would "fundamentally transform" America. If the Federal government, under the orders of the President, does, in fact, call on the National Guard to prevent these Americans from their right to peacefully "assemble and to petition the Government for a redress of grievances" then we have yet another Constitutional Amendment that has been supplanted by this administration.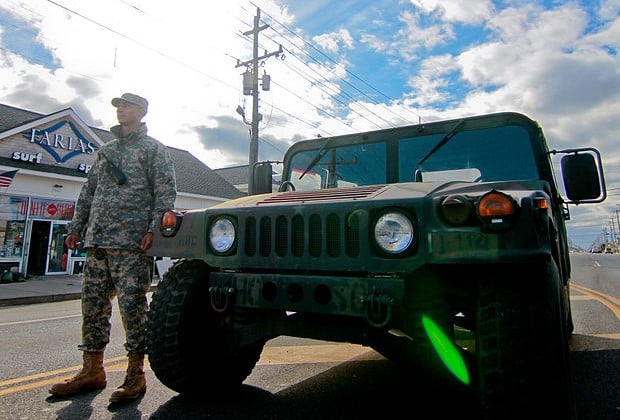 A conservative group claims it has spoken to sources within the Department of Transportation who admitted plans by the feds to order armed National Guard troops to close Washington DC's Interstate Route 495 tomorrow in order to derail a mass protest and potential blockade being organized by a group called Truckers Ride for the Constitution.
The sensational claim is posted on the Freedom Leadership Conference website, as well as prominent conservative blog RedState.com. The annual Freedom Leadership Conference has previously been sponsored by the likes of Judicial Watch and Human Events.
According to Glenn Ryt, the plan to close the route that circles the nation's capital will be implemented on Friday morning with the aid of armed National Guard troops from Maryland, Pennsylvania and Virginia who will use trucks, jeeps and armored vehicles to block traffic entering the Beltway.
"These sources at the Department of Transportation have advised off the record that the DOT proposal included the confident belief that the Capitol Beltway shutdown will successfully achieve the twin goals of thwarting the trucker protest scheduled for a three day period starting on Friday, as well as deal another punishing blow to what they call "the crazy wing of the GOP" which refuses to capitulate to their demands to approve a budget that includes Obamacare funding," writes Ryt.
Demonstrators under the banner of Truckers Ride for the Constitution will arrive in DC tomorrow morning to snarl traffic as part of "a shot across the bow that will ripple across all branches of government." 10,000 truckers are expected to continually circle the Beltway for three days, taking up two lanes and keeping a third clear to allow access for emergency vehicles.
A separate Million Vet March will also take place in DC on Sunday morning at the site of the World War II memorial which was barricaded and wired shut by the feds earlier this week.
On Saturday, Honor Flight veterans plan to break through barricades that have been placed around the Iwo Jima Monument just outside Arlington National Cemetery, setting up a potential confrontation with National Park Service employees. North Country Honor Flight executive director Daniel Kaifetz has asked for assistance from the Million Vet March protesters in allowing vets to gain access to the Iwo Jima Monument.
"Since Interstate 495 is clearly a federal roadway," report our DOT sources, and "the federal government is now closed because of the crazy House of Representatives Republicans, it is within the purview of the federal government to add it to the list of government properties that are closed and may not be used by citizens," claims Ryt adding that the I-95 and I-66 in Northern Virginia could also be closed.
The report seems somewhat dubious given that using National Guard troops to close the Beltway merely to counter a protest in the midst of a government shutdown could not possibly be justified by the Obama administration.
Many have accused the White House of acting spitefully in closing down numerous national parks, roads, hiking trails and memorials, and one Park Ranger even told the Washington Times that an order has gone out "to make life as difficult for people as we can."
However, closing down a major highway surrounding the nation's capital seems a step too far even for the Obama administration, which many charge has acted vindictively by using the shutdown as an excuse to punish the people as part of a political ploy to demonize its political opposition.
Facebook @ https://www.facebook.com/paul.j.watson.71
FOLLOW Paul Joseph Watson @ https://twitter.com/PrisonPlanet
*********************
Paul Joseph Watson is the editor and writer for Infowars.com and Prison Planet.com. He is the author of Order Out Of Chaos. Watson is also a host for Infowars Nightly News.