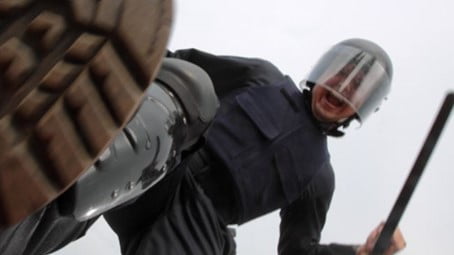 All over the United States, Americans have figured out just who is "enforcing" tyranny upon them, and have started standing up. Police may have awoken the "sleeping giant," the American people, who are tired of living as slaves.  It's time to get on the right side of history, and quick.
Those who used to applaud the police for their brutality against "criminals" have come to realize just how quickly the government can make them outlaws with just the swipe of a pen.  Fortunately, these people are finally waking up and figuring out who is actively enforcing the tyrannical edicts of tyrants.
City officials warned and fined a Waffles Shop owner for daring to disobey their commands to keep his business closed in Fresno, California.  That's when the American people stepped in and created a barricade against a cop who was barking the orders passed down from the ruling class, attempting to get the people to obey.  Chief of Police Andrew Hall said in a news release late Monday that "it does appear that the officer was acting lawfully while assisting Code Enforcement. It also appears that the individual, in this case, did obstruct the officer in his duties."
All cops seem to be forgetting that just because something is legal, that does not make it right.
Cops in Los Angeles that attempted to enforce social distancing were run off by regular people wielding…water guns.  None of these stories will make it to mainstream media in any kind of meaningful capacity, because they want you to roll over and accept "the new normal."  But Americans everywhere are starting to say "we won't take it anymore!"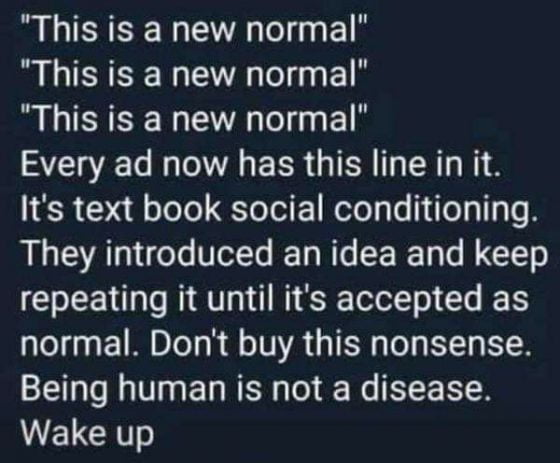 Riot cops actually stood down and walked away after one man appealed to them with logic and liberty after challenging their integrity. It should be well known by now that any cop still enforcing any amount of tyranny has no integrity.  And the American people are waking up.
"I'd rather lose my job than lose my soul," says the man appealing to the riot police. "Cuz what are you gonna go tell your little boy or your little girl tonight? That you took a baton and you crushed somebody's skull who was a mom? Is that what tough guy does?"
It's time for all law enforcement to get on the right side of history and stop acting like the Gestapo. But unfortunately, there will always be order followers willing to commit violence on behalf of the ruling class.
Proving there are no good cops, because the good ones get fired, remember the video of the cop saying all other LEOs should stop enforcing tyranny?  He was fired for it.
We do have power against these bullies especially when we stand together. More LEOs need to be aware of what they are doing in exchange for a paycheck because they are acting just like the police in the former Soviet Union, in Communist China, and the exact same way the Gestapo did in Nazi Germany.  History will not be kind.
Another cop has come forward trying to appeal to those who think they have the right to take others' rights and rule over others
I've said it before, and I will say it again: There are no orders if there are no order followers.  The police are the ruling class' "teeth." Without them, we'd all be living freely and would have no reason to have to fight for our rights against tyrants, because no one would be enforcing tyranny.  Adolf Hitler and Joseph Stalin got away with mass murder because the cops obeyed their orders.  Remember that when all of this is done.  Remember who obeyed the commands of tyrants and tried to strip you of every last shred of your human rights. 
Cops and the ruling class are just human beings, like you and me.  They don't have any additional rights that you don't have and they are acting immorally when they try to prevent you from living in freedom, which is the birthright of every human on this planet. Standing up to them is not immoral, in fact, it's the only way we'll ever have true freedom.
We are many, they are few. Stand together against all tyranny.
"The most improper job of any man, even saints (who at any rate were at least unwilling to take it on), is bossing other men. Not one in a million is fit for it, and least of all those who seek the opportunity." ― J.R.R. Tolkien, The Letters of J.R.R. Tolkien