This article was originally published by Tyler Durden at ZeroHedge.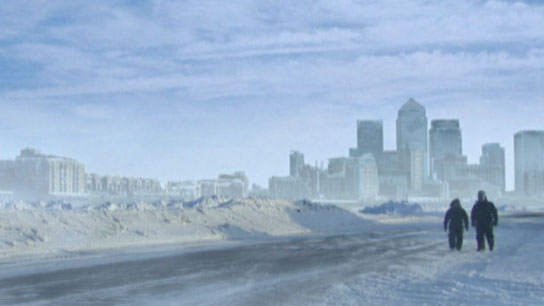 An unusually cold front moved into the Central US early this week, spilling Arctic air throughout the Plains, Midwest, and Tennessee Valley. By Wednesday morning, "record-shattering cold" temperatures have been reported.
From the Canada–US border to Texas, unseasonably cold air has been recorded. For many states in the Central US, temperatures are over 20 degrees below average.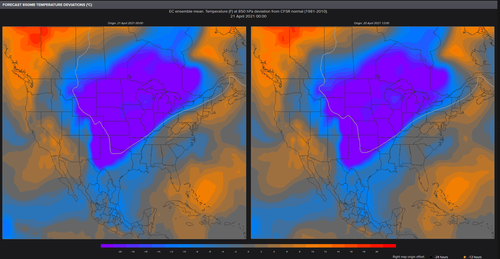 BAMWX meteorologist Kirk Hinz wrote in his latest note that cold air spans from southern Canada to near Mexico on Wednesday morning. He posted a chart of dozens of locations in the Central US that set various cold record lows (some were daily and or monthly records).
"The record-breaking cold has settled in this morning across the central US, stretching from near Mexico to southern Canada…as cross-polar flow drops in Arctic levels of frost/freeze temps in the late spring season. Additional record cold pushes east into Thursday morning as well before things start to moderate into the weekend," Hinz said.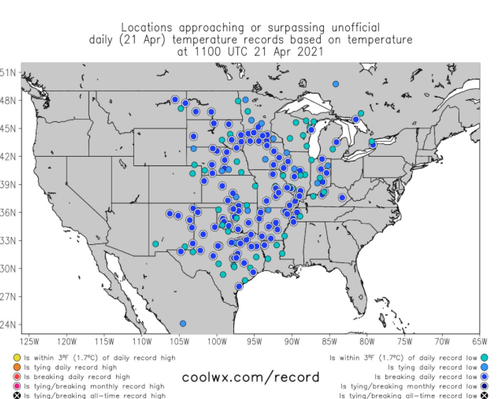 "Further west it was colder yes but more records were broken today vs yesterday," Hinz said. 
Further west it was colder yes but more records were broken today vs yesterday. #AGwx https://t.co/5iCio8eYFi pic.twitter.com/rIfi7gedIu

— BAMWX (@bamwxcom) April 21, 2021
None of this should be surprising to readers as we noted days ago that commodity traders were anticipating a cold spell that was supporting corn prices.
We also noted the freezing temperatures could have a profound impact on seedling development this spring.
The cold blast has likely delayed seeding across the Corn Belt as farmers wait for warmer temperatures. Planting corn in cooler climates is still possible, but colder soil can take corn kernels much longer to germinate and increases the risk of seedling death. 
Volatile weather for the Heartland could impact crop yields at the end of this year's growing season.