Commodities have been going absolutely ballistic for months, with the mainstream focusing more on oil and gas than anything else. Price increases in other commodities like wheat, beans, and rice, which have, for the most part, been subdued on the consumer retail side because companies were willing to take the margin compression for a while, are now becoming a painful reality.
A recent email from a regular reader of SHTFplan who closely follows food price fluctuations outlines that it's not just large corporate grocery chains that are raising prices, but not-for-profit organizations. Provident Living, a huge food storage and dry goods distribution organization for the Latter Day Saints has alerted their members that prices are up from between 11% to 49% on basic food staples.
Keep in mind that the LDS are extremely large buyers of food. They buy in bulk across the country, and they buy hard assets, not paper traded commodities. They don't attempt to profit from their Prodivent Living storage centers, which are located in just about every major city in the United States. So, if they're raising prices, it's because their acquisition costs are going up.
The most stunning aspect of the price increases, is that they have occured not in the last year, but over the last 90 days.
The following chart shows the price inflation in the majority of food storage products (generally 10 pound to 25 pound bulk bags) distributed at the Provident Living centers.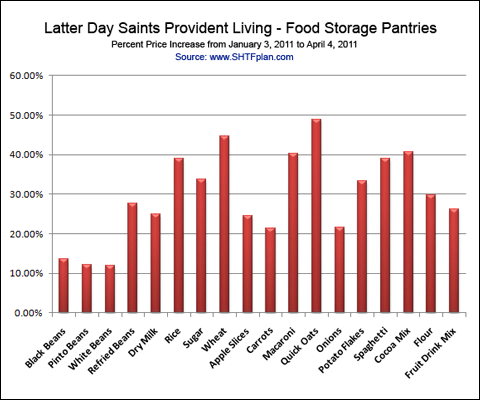 The following note from DP sums up the reasons for the price increases and actions that should be taken by those who are interested in preparedness and making non-traditional investments to protect wealth:
The LDS church have long been at the forefront in preparedness for families and communities. Their network of companies and church affiliations allow them access to cheaper food sources, and the capacity to store them for long periods of time through their canning facilities. As the government and Federal Reserve continues to tell the American people that inflation is low, and contained by their monetary policies, the real barometer of inflation in the economy comes from the grocers, markets, and institutions that deal with food sales and production, and must monitor prices daily as commodities continue to climb.

The LDS Church 's raising food prices at their canneries by 11 to 49% in just
three months should be a serious wake-up call to all Americans on the  true inflationary conditions that exist in our economy, and that we need to constantly look outside government reports for the true data affecting our spending and finances.