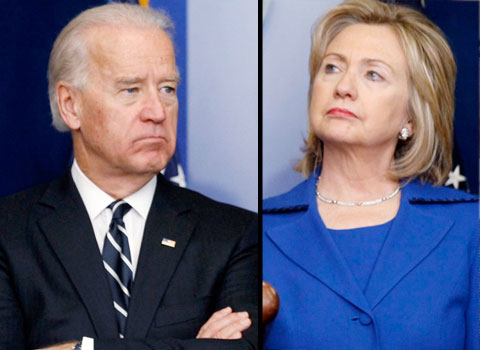 This article was written by Paul Joseph Watson and originally published at Infowars.com.
Editor's Comment: Officially, Joe Biden claimed that there wasn't enough time to "realistically" launch a successful campaign for president, while noting the loss of his son. In reality, Biden has stepped back from announcing a bid because of the ruthless nature of a certain someone. Under the banner of "freedom" and "democracy," the U.S. is once again watching a naked emperor seek the highest office for the advancement of their own personal power.
Biden has plenty of dirt on him, and is no more qualified that any of the other government gangsters in Washington… but, just as in gangs of lore, those who make threats, and know when to make good on them, have a way of convincing others to yield to their own designs.
Report: Adviser Told Biden – Clinton War Machine Will "Destroy You"
by Paul Joseph Watson
Joe Biden's decision to stay out of the 2016 presidential race was reportedly made after a conversation with a high ranking adviser who told him the Clinton war machine was prepared to destroy the Vice President's reputation if he dared challenge Hillary.
The reason cited behind Biden's announcement yesterday that he would not run for the Democratic nomination was the fact that his family is still in mourning after the loss of Biden's son Beau to brain cancer.
However, according to DC Whispers another factor could have swayed the decision – a warning that the Clintons were "fully prepared and willing" to utterly destroy Joe Biden's "past, present, and future."
The website names the Vice President's Chief of Staff, Steve Ricchetti, as the trusted adviser who had a lengthy sit down with Biden and convinced him not to go head to head with the Clintons.
Ricchetti also served as White House Deputy Chief of Staff during the Bill Clinton administration and subsequently founded his own government relations firm, leading to speculation that he was tasked by the Clintons to dissuade Biden from running.
"Rumors are now swirling that Ricchetti was actually coordinating with the Clintons weeks before Biden's announced decision today that he would not not be seeking the presidency," reports the website. "This has led to further speculation that Mr. Ricchetti might find himself the beneficiary of a powerful position within a Hillary Clinton administration in the not too distant future as reward for a job well done."
Biden's decision not to run now leaves just Hillary Clinton and Bernie Sanders in the top tier of the party's 2016 candidates.
The announcement benefits Hillary to a far greater degree given that Biden would have "siphoned most of his support from Clinton," reports CNN. Clinton holds a 16 percentage point lead over Sanders according to the latest CNN/ORC poll.