This report was originally published at ZeroHedge.com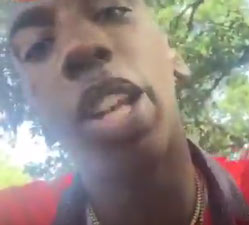 Threats by prominent members of the black community against Donald Trump, either directly or indirectly, are nothing new.
Just under two months ago we reported about the latest social fallout incident from Trump's rising popularity, when prominent Black Lives Matter activist and rapper Tef Poe tweeted a message for "white people": if Donald Trump wins the presidency, "niggas" will 'incite riots everywhere.'
"Dear white people if Trump wins young niggas such as myself are fully hell bent on inciting riots everywhere we go. Just so you know," Poe tweeted. A screenshot of his since deleted tweet was captured below by the Daily Media.
To be sure, the antagonism among African-Americans toward Trump is well-known by now, and even CLSA's noted commentator Chris Wood touched upon this in the latest edition of hs "Greed and Fear" newsletter.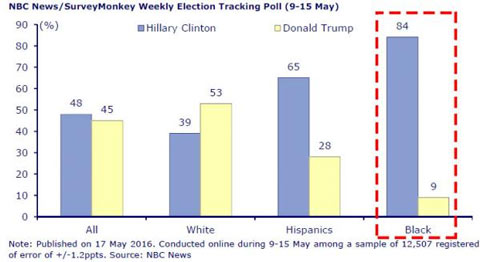 However, a new and perhaps even more bizarre protest, not to mention death threat, against Donald Trump was revealed this weekend when Louisiana rapper Maine Muzik said during a YouTube video recording that he would kill presumptive presidential candidate Donald Trump if his "Mamma's food stamps are taken away." To wit:
I could go to war with whoever the fuck I want to, but I really want to go to war with Donald Trump because Donald Trump trying to take food stamps from my mamma and that's all the fuck she's got. As long as the motherfucking government let us keep food stamps… we gonna be good, but the first time this nigga pass a law talking about he taking Louisiana purchase, shit going to get ugly.  I swear to god on every motherfucking chain I got, bitchez gonna go down.

You gotta understand them (inaudible) love Fruit Loops. They love that shit so if you take that shit nigga it's coming with the madness and a nigga ain't gonna play about that.  Y'all take Donald Trump and let him know it's up over here. We gonna declare war.
In his tirade he even went on to declare his allegiance to the Islamic State.
And I ain't worried about ISIS because they just called me, they want me to fuck with them now… Ya, we got them drums bitch and grenades but I'm scared to throw them.
According to Vidmax, on the same week Muzik record this threat, he was visited by police for posting a video to his Instagram account where he and his gang showed off a stockpile of weapons.
Threats aside, the implications from this "heartfelt" video for Trump could be substantial: if indeed the republican candidate wants to shift to a more "centrist" position, all he would have to do is promise he won't "take momma's foodstamps" and Trump could quickly find himself not only supported by belligerent Louisiana rappers, but also take a decisive chunk out of Hillary Clinton's primary ethnic voting group.
In the meantime, we expect more such videos which explain that for millions in potential voters, all it really boils down to is whether or not the foodstamps are taken away.
For more breaking news and financial commentary visit Zero Hedge