This report was originally published by Tyler Durden at Zero Hedge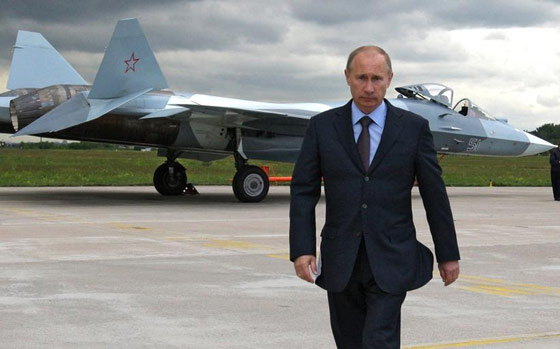 In a move that will likely prompt more calls for collusion, Russia's President Vladimir Putin offered more words of praise for President Trump on Wednesday, but added that he was sorely disappointed with the U.S. political system, saying that it has been "eating itself up."
Speaking in an interview with Russian state television, Putin lavished Trump with praise, describing him as a great communicator: "I have no disappointment at all," Putin said according to AP, when asked about the U.S. president. "Moreover, on a personal level he made a very good impression on me."
Putin also praised Trump as a "balanced" man, who easily gets into the gist of various issues and listens to his interlocutor. "It's possible to negotiate with him, to search for compromises," Putin added.
The two leaders met on the sidelines of international summits last year.
The Russian president also noted that he spent some time talking to Melania Trump when he sat next to her during an official dinner at the G-20 summit in Hamburg, Germany in July. The Russian leader said he told her and the wife of the Italian premier "about Siberia and Kamchatka, about fishing … about bears on Kamchatka and tigers in the Far East."
"I made some exaggerations," the action-loving Russian leader said with a grin. "When you talk about fishing, you can't help exaggerating."
Asked jokingly by the interviewer if he was trying to recruit the women, the KGB veteran responded by saying: "No, I stopped dealing with that a long time ago." He added with a smile: "But I liked doing that, it was my job for many years."
* * *
Putin then changed the topic, and vented his frustration with the U.S. political system saying "it has demonstrated its inefficiency and has been eating itself up."
"It's quite difficult to interact with such a system, because it's unpredictable," Putin said.
Russian hopes for a detente and better ties with Washington have been dashed by the ongoing congressional and FBI investigations into allegations of collusion between Trump's campaign and Russia. Speaking about the bitter tensions in Russia-West relations, Putin said they have been rooted in Western efforts to contain and weaken Russia.
"We are a great power, and no one likes competition," he said.
Turning his attention to a particularly sensitive topic, Putin said he was dismayed by what he described as the U.S. role in the ouster of Ukraine's Russia-friendly president in February 2014 amid massive protests.
Putin charged that the U.S. had asked Russia to help persuade then-President Viktor Yanukovych not to use force against protesters and then "rudely and blatantly" cheated Russia, sponsoring what he called a "coup." Russia responded by rushing through a referendum in Ukraine's Crimean Peninsula, whose result was an overwhelming majority voting to join Russia.
"Few expected us to act so quickly and so resolutely, not to say daringly," Putin said.
He described the Western sanctions over Crimea and the insurgency in eastern Ukraine as part of "illegitimate and unfair" efforts to contain Russia, adding that "we will win in the long run." He added that "those who serve us with poison will eventually swallow it and poison themselves."
Responding to a question about Russia's growing global leverage, Putin responded: "If we play strongly with weak cards, it means the others are just poor players, they aren't as strong as it seemed, they must be lacking something."
* * *
Finally, Putin, who presented a sweeping array of new Russian nuclear weapons last week, voiced hope that nuclear weapons will never be used — but warned that Russia will retaliate in kind if it comes under a nuclear attack.
"The decision to use nuclear weapons can only be made if our early warning system not only detects a missile launch but clearly forecasts its flight path and the time when warheads reach the Russian territory," he said. "If someone makes a decision to destroy Russia, then we have a legitimate right to respond."
He concluded ominously: "Yes, it will mean a global catastrophe for mankind, for the entire world. But as a citizen of Russia and the head of Russian state I would ask: What is such a world for, if there were no Russia?"