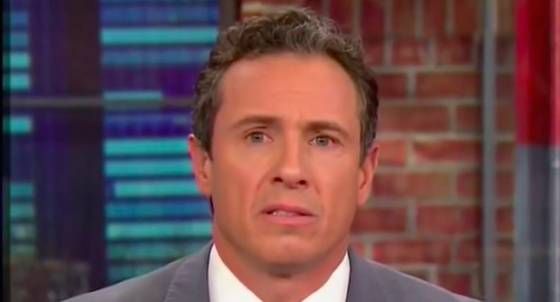 An infamous propagandist became unhinged and threaten to violently assault a person who called him "Fredo." In a video, which surfaced Monday evening, the CNN anchor is seen flipping out in a profanity-laced tirade against an individual who referred to him by a nickname popularized by Breitbart News's John Nolte.
CNN's Chris Cuomo can dish out the government propaganda and regurgitate the official narrative, but can't handle a little a nickname while he tries to manipulate the public's opinions.
Now do abortion, Fredo. https://t.co/RfZYmtTlB3

— Pride Month Is Gay (@NolteNC) August 8, 2019
"No. Punk ass bitches on the right call me Fredo. My name is Chris Cuomo. I'm an anchor on CNN," Cuomo said. "Fredo is from The Godfather. He was the weak brother."

He continued, telling the man that "Fredo" is equivalent to the "N-word" to Italians.

The man reacted to Cuomo's explosion, remarking, "You're a much more reasonable guy in person than you seem to be on television."

"If you want to play, then we'll fucking play," Cuomo shot back, hurling a series of insults at the man and referring to him as a "punk bitch."

"You know my name is not fucking Fredo," he continued, adding, "own what you said."

"I'll fucking ruin your shit," Cuomo ranted. "I'll fucking throw you down these stairs like a fucking punk."

"Please do," the man shot back.

"So you can fucking sue?" Cuomo continued, before daring the man to punch him.
The following video has already been removed from YouTube in an effort to censor and keep the public in dark about what the propagandists are doing.
But the following was made available on Twitter, so watch it while you still can:
*The following video contains profanity and may not be suitable for all viewers. Use your own discretion.
I assume @cnn not available for comment. Imagine their coverage of this if they were a real news organization? https://t.co/uH2biAkKUZ

— Donald Trump Jr. (@DonaldJTrumpJr) August 13, 2019
The network did not respond to Breitbart News's request for comment, but CNN's Matt Dornic responded to the video on Twitter and indicated that the network "completely" supports Cuomo, their most notable propagandist.
H/T [Breitbart News]