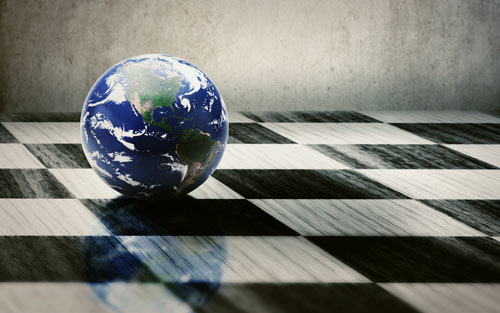 As of this writing a tremendous number of things are happening in North Korea and Russia.  Although these are not events that seem momentous, they are quite profound when taken into consideration with the grand scheme: the worldwide plot to form a state of global governance.  These behind-the-scenes maneuverings are not in the forefront of the news; however, they are having effects within the nations mentioned and influencing their current actions.
Almost a month ago, it was reported that one of the foremost militia commanders in the separatist-controlled Donbass area of Eastern Ukraine was assassinated via car bomb.  Then almost immediately afterward, just a few weeks later, the Chief of Staff of the Ukrainian Army of the Kiev government mysteriously died on duty of a "heart condition" although he was in his early fifties.  These "tit for tat" actions stimulated a new wave of fighting in the Eastern Provinces.
The truce between the separatists and Kiev government has been violated without ceasing, primarily by the Ukrainian military under the direction of the US-sponsored president of Ukraine, Petro Poroshenko.  At this time, there is an uneasy "stalemate" between the U.S. and Russia in a proxy war between the U.S-backed Kiev government and the Eastern Ukrainian separatists supported by Russia.
Next, we have North Korea, where Kim Jong Un is ramping up the bellicose rhetoric against the U.S.  Yes, we have heard it before, but this time it is a little different.  On Monday, 45-year-old Kim Jong Nam, the half-brother of North Korean dictator Kim Jong Il was assassinated in Malaysia.  Here is an excerpt of a report on it:
"North Korean dictator Kim Jong Un's half-brother was assassinated Monday in Malaysia, South Korean news agency Yonhap reported early Tuesday, citing a government source.  Kim Jong Nam was attacked by two unidentified women who stabbed him with "poisoned needles" at a Malaysian airport before fleeing, according to cable TV broadcaster TV Chosun."

Fox News World, 2/14/17
Sounds "cut and dry" but examine the simplicity of the method of assassination (overly simplistic), and it yet becomes more complicated, as reported in another article:
"The two female and four male suspects in the killing of Kim Jong-nam are hired assassins who did not know each other before they were brought together for the murder plot, a Malaysian security source has told the Telegraph.  The six suspects, most of whom are thought to be sleeper agents, were all living in Kuala Lumpur and were recruited and briefed for the hit by a secret agent point man or woman, the source, who did not want to be named, said.  Lawmakers in South Korea earlier cited their spy agency as saying it suspected two female North Korean agents had murdered Mr Kim. US government sources also said they believed North Korean assassins were responsible."

www.telegraph.co.uk  2/16/17
A very complex plot for North Korean agents, wouldn't you say?  It sounds pretty much "par for the course" for a Western intelligence agency, such as MI6 or the CIA.  The bio of the half-brother does not leave room for any "intentions" as reported by the US and South Koreans for the half-brother to try and displace Kim Jung Un.  The narrative is being "crafted" little by little in Western News Media sources, and take note of this excerpted report.  The article Navy fleet commanders: The next conflict hotspot is going to be in Korea, was released by Business Insider regarding developments with North Korea:
"SAN DIEGO, Calif. — Two top Navy fleet commanders said Tuesday that the next potential conflict hotspot would likely be in Korea. "If there's a fight tonight, it's probably going to happen on the Korean peninsula," said Vice Adm. Joseph Aucoin, commander of 7th Fleet, in a panel discussion at the AFCEA West 2017 conference." 
As the anti-ICBM missile systems are emplaced in South Korea and possibly Japan, the North Koreans have been test firing more submarine-launched ballistic missiles and have increased the war-rhetoric.  We view it from a "North Korea BS" perspective; however, it is a hotspot that is fostered by the globalists toward their own ends: a small piece in the puzzle but a potential flashpoint to trigger a world war.  North Korea may very well be the vehicle they use to initiate hostilities that ends the map of the world as it is now and places the ball in their court for global rule.
Finally, we have what has been occurring with Russian diplomats.  There is an excellent report by Stefan Stanford at All News Pipeline released on entitled Are Russian Diplomats Being Assassinated? Globalists Continue March Towards World War 3 As Russian Ambassador To The UN Mysteriously Dies In New York.
This report summarizes everything in astounding detail concerning the astonishing number of Russian Diplomats "buying the farm" since December of 2016.  There are no coincidences in "statecraft," specifically the business of assassinations and counter-intelligence operations that "mutate" into those lines…specifically referring to those sponsored by governments.  These deaths do not even include other "accidents," such as the death of Vladimir Putin's chauffer last year who many believe was killed as a warning to Putin by Obama.
As I have mentioned in previous articles, Sen. John McCain (R, AZ) is a major contributing factor to the chaos we're seeing in Ukraine and Russia.  Cool heads are prevailing right now, and we have a President who is determined to make inroads with Russia and reset the relations with all of the nations that the State Department has left in shambles.  Still, there are forces at work here whose destabilizing efforts may lead to a different reaction than hoped for.  As long as globalist oligarchs such as Soros and the Rothschilds are operating, we can bank on continued destabilization and the creation of hot spots in addition to the three outlined in this article.
---
Jeremiah Johnson is the Nom de plume of a retired Green Beret of the United States Army Special Forces (Airborne).  Mr. Johnson is also a Gunsmith, a Certified Master Herbalist, a Montana Master Food Preserver, and a graduate of the U.S. Army's SERE school (Survival Evasion Resistance Escape).  He lives in a cabin in the mountains of Western Montana with his wife and three cats. You can follow Jeremiah's regular writings at SHTFplan.com or contact him here.
This article may be republished or excerpted with proper attribution to the author and a link to www.SHTFplan.com.
Also Read:
"The End Goal Is To Destroy The Constitution and Subvert The Country" – How Secretive Non-Profit Organizations Erode The United States
The Left-Right Deep State Is One In The Same: "The Goal Is The Enslavement And Complete Control Of All Of Mankind"
Trump Can't Stop It: "The People Who Have Been Orchestrating The Collapse Have Not Halted Their Agendas"
The Surveillance State Did Not Disappear With The Trump Victory: "It Is Still Lurking And Completely Intact"
12 Things President Donald Trump MUST Do For America To Be Great Again