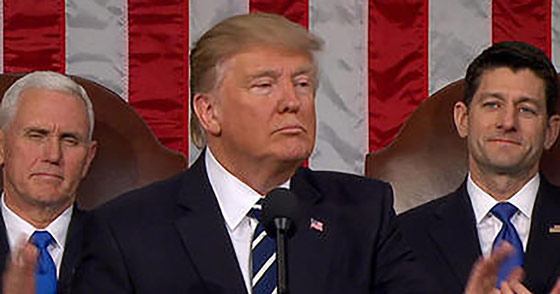 Though most left-wing voters assumed Donald Trump had no hope of winning the Presidency, one anti-Trumping professor put politics aside when making his assessment and accurately predicted he would defeat Hillary Clinton.
Now Professor Allan Lichtman, author of the book The Case For Impeachment, says that the President will soon be taken to task, not by Democrats who won't have a chance for a majority in Congress until after the 2018 election, but by members of his own Party.
Via Politico:

Allan Lichtman, a professor at American University, reached meme-status last fall for predicting long before anyone else that Trump would win, using a formula based on the popularity of the party in control of the White House that accurately predicted the eight previous presidential elections. Now Lichtman wants everyone to pay attention to the rest of what came through his crystal ball — that Trump will now be impeached.

The people who paid attention only to the professor's first prediction include the commander in chief, whom Lichtman says reached out to him during the transition.

"Taking time out of preparing to become the world's most powerful leader, he wrote me a personal note, saying 'Professor — Congrats — good call,'" Lichtman writes in "The Case for Impeachment," an advance copy of which was shared with POLITICO.

"What Trump overlooked, however, was my 'next big prediction': that, after winning the presidency, he would be impeached."

…

Via Raw Story:

Politico spoke to Allan Lichtman about his new book, The Case for Impeachment, and why Lichtman believes that the president's own party will turn on him, enabling Congress to remove him from the White House.
Leaders and supporters of the "NeverTrump" movement, which attempted to prevent Trump's ascension to the Presidency by any means necessary, haven't given up. They may be hiding in the shadows, but they are actively working against the Trump administration, as evidenced by the fact that they are doing everything they can to take out Trump's Lieutenants.
Though we've seen actions taken by the President in recent weeks that suggest he may be starting to lean towards the status quo by doing the bidding of the shadowy Deep State operating behind the scenes of global economic, financial and political affairs, it is not yet clear if Trump will fully embrace the old guard.
Democrats have already called for Trump's impeachment and even those who were willing to giving him a chance to change the direction of the country are now suggesting some of his actions are impeachable offenses.
Only time will tell, but one thing appears to be fairly certain, nothing has really changed under President Trump up to this point.