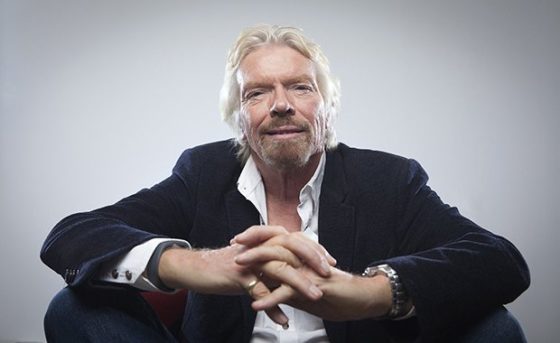 Entrepreneur Sir Richard Branson has said that private company Virgin Galactic is only a few "weeks" away from its first trip into space. Sir Richard is in a race with Elon Musk of Tesla and Amazon's Jeff Bezos to send the first fee-paying passengers into space.
Branson, who is a 67-year-old multi-millionaire was initially expected to take part in a space flight before April this year. Unanticipated delays and a fatal crash in 2014 prevented Sir Richard's original ambitions. Earlier this year, Virgin Galactic, which was established in 2004 by Branson, completed a supersonic test flight of its SpaceShipTwo passenger rocket ship, its first since the crash. "We should be in space within weeks, not months. And then we will be in space with myself in months and not years," the firm's founder and chief executive told news website CNBC.
In an interview with BBC Radio 4's You and Yours programme, Sir Richard said he was receiving astronaut, centrifuge, and fitness training. He also insisted there was a huge demand for commercial space flights. "If I have a room full of 10 people, eight out of 10 would love to go to space if they could afford it," Sir Richard told CNBC. "It is up to us to produce as many spaceships as we can to cater with that demand."
Branson's mission is planned for 2023.
Amazon founder Jeff Bezos has said his space travel firm Blue Origin will launch a manned mission into space by 2019. According to BBC, Bezos didn't clarify if he meant crew or fare-paying passengers. Earlier this month, Blue Origin also announced that it is launching a non-profit group with Airbus, the European Space Agency, Agencia Espacial Mexicana, and French construction company Vinci Construction to explore ways to colonize the moon.
Branson also had a small piece of advice he wanted to share with Space X CEO, Elon Musk. When asked by CNBC's Nancy Hungerford what advice he would give to Musk, Branson hesitated before saying that Musk should learn to delegate. "I think he maybe needs to learn the art of delegation," Branson said, speaking in Singapore Tuesday. "He's got to find time for himself, he's got to find time for his health and for his family. He's a wonderfully creative person but he shouldn't be getting very little sleep. He should find a fantastic team of people around him."