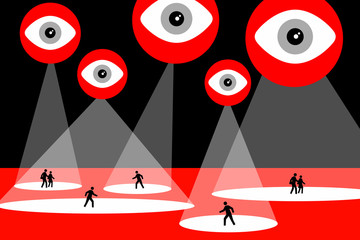 In what can only be described as a major basic human rights violation, Google has published the location data fo those who they say are violating the lockdown orders handed down by governments. "Community Mobility Reports" show where we're going amid the lockdown, according to Google.
This pandemic has come at a great cost to all of humanity.  Rights and liberty have gone and in place of them, a false sense of security. This is evident in Google's new reports. Google has unveiled the COVID-19 Community Mobility Reports in an effort to help public health officials understand how people are moving about in response to the coronavirus pandemic. The reports show location data from folks who have agreed to share their location history with Google in order to show places that are following instructions to shelter in place — or not.
"As global communities respond to the COVID-19 pandemic, there has been an increasing emphasis on public health strategies, like social distancing measures, to slow the rate of transmission," wrote Google Geo SVP Jen Fitzpatrick according to Engadget. "In Google Maps, we use aggregated, anonymized data showing how busy certain types of places are—helping identify when a local business tends to be the most crowded. We have heard from public health officials that this same type of aggregated, anonymized data could be helpful as they make critical decisions to combat COVID-19."
These reports are designed to "shame" and force Americans to fall victim to the propaganda.
Here in France, as shown in the top image, there has been a massive decline in movement to most categories — up to 88 percent — with a 56 percent drop in workplace travel and an 18 percent increase in people staying at home. That's down to a government-mandated lockdown (confinement) that prohibits any unnecessary travel, with penalties ranging from fines up to 1,500 euros and even prison time for extreme recidivists.

In California, which has implemented some of the strictest confinement rules in the US, we see a drop of just 50 percent in retail and recreation zones. Those rules are still essentially self-enforced, however, which could explain why France has started flattening its infection curve, while the US curve is a rocket ship traveling straight up. –Engadget
NPR Station Is CENSORING Donald Trump as MSM Pushes Totalitarian Propaganda
Google has also said its also collaborating with epidemiologists to create an updated dataset of anonymized aggregated data, "to better understand and forecast the pandemic," the company said.  Which basically means we should all prepare for more slavery and an enhanced Orwellian state.
Prepare for social unrest as people figure out they were duped into giving up their livelihood in the face of this pandemic.  While it's still a good idea to not spread this virus around, preparing for a pandemic now is a waste of time.  Once people figure out that a $1200 stimulus check will never be able to replace their life's work, things could get really ugly. This is a recipe for massive rioting and social unrest on a scale never before seen that will make this pandemic look like child's play.
The government is ushering in a totalitarian and Orwellian state the likes of which will eliminate human rights and dignity for the foreseeable future.  The worst part is that people are allowing it in the name of "safety."