After the much anticipated defeat of the democrats in the House of Representatives, President Obama says that he wants to "figure out how we can move forward together."
At a White House news conference, the president said that when Congress returns, "my goal is to make sure we don't have a huge spike in taxes for middle class families." He made no mention of his campaign-long insistence that tax cuts be permitted to expire on upper-income families, a position he said would avoid swelling the deficit but put him in conflict with Republicans.

…

He also virtually abandoned his legislation — hopelessly stalled in the Senate — featuring economic incentives to reduce carbon emissions from power plants, vehicles and other sources.

"I'm going to be looking for other means of addressing this problem," he said. "Cap and trade was just one way of skinning the cat," he said, strongly implying there will be others.

…

The president opened his post-election news conference by saying voters who felt frustrated by the sluggish pace of economic recovery had dictated the Republican takeover in the House.

…

The president said he was eager to sit down with the leaders of both political parties "and figure out how we can move forward together."

…

"I think people started looking at all this, and it felt as if government was getting much more intrusive into people's lives than they were accustomed to," he conceded.
Like President Bush before him, President Obama now intends to cooperate with the opposing party in Congress and cross the aisle. Mr. Obama wants to compromise on things like tax cuts, and carbon emission taxes and government's intrusion into people's lives.
How about this: We don't want to compromise.
It may sound close minded, but it's true.
How should the American people compromise on taxes? Should we only raise them a little bit? How about not at all. In fact, instead of raising taxes, let's start talking about cutting behemoth government spending programs and not just cutting taxes, but completely eliminating them. Want to compromise? Then the discussion should start with tax elimination, not extending already existing tax reductions put in place by President Bush.
What about carbon emissions? The science behind the neo-environmentalist movement is bunk. The policies the President supports are not designed to improve the environment – only to increase government revenues. Nope, we're not going to compromise on that one either. If you want to save the environment here's an idea – offer tax elimination for businesses that engage in the development of alternative energy, and promote individual energy self sufficiency in the home by eliminating sales taxes and regulation on developing personal alternative energy systems that individuals can install and maintain themselves – so they don't have to be dependent on heavily regulated enterprises like oil, water and electric utilities. Mandates only anger people. Why not let people take the steps themselves to improve the environment by offering them personal benefits for doing so, rather than putting a gun to their head?
Government Intrusion into our lives? Forcing each individual American to buy health insurance by mandate is not something Americans want to compromise on. This should have been evident when almost 10 out of 10 phone calls to Washington when health care legislation was being passed were in opposition. Obviously, Washington didn't listen. We didn't hear anyone talking about compromise then.
We also didn't hear anyone talking about compromise when tens of thousands of Americans called their representatives to oppose the GM, AIG and bank bail outs. No one compromised with the American people – not democrats, not republicans. They just did what they wanted and enslaved current and future generations to the tune of trillions. This is what happens when republicans and democrats "cross the aisle" and compromise.
No, Mr. President, the American people aren't looking for compromise. The policy of compromise doesn't work – not in today's America.
You see, when it comes to government intrusion into the lives of individual Americans through legislative mandates, it runs counter to the principles set forth in our founding document, The Constitution for the United States of America. Even though the education system in America has tried to dumb down the populace, at least some of them are waking up. And yesterday, a lot of them came out to vote. But many didn't come out to vote for republicans – they came out to vote against democrats. Their motivation was not to see the Republican Party takeover Congress again. They just wanted to stop the out of control train that was a democrat Congress.
Every law passed in Congress seems to further deteriorate our individual liberties as free men (and women) of the United States. That republicans now control at least one side of the bicameral Congress is a good thing, but only because it will (hopefully) grid-lock any future legislation.
Because if there's one thing we don't need in America right now, it's more laws.
The only thing the American people need right now is for legislation to be repealed and for the corruption in Washington and on Wall Street to be addressed. That's not going to happen under President Obama's watch, and it wouldn't happen even if republicans controlled a super majority of both houses, because as we've said before, republican and democrat policies are two heads of the same snake. Over the last century, BOTH parties have been responsible for legislative actions that have run counter to The Constitution.
The problem with Washington is that corruption runs rampant and politicians are completely disconnected from the reality on the ground. How can the American people compromise with those who are concerned only with enriching themselves to the detriment of the rest of the populace?
Call us crazy, but we're not interested in compromising the principles of individual liberty with the economic, political and philosophical policies of socialists, fascists and communists.
What it all boils down to is that you're either for tyranny, or you're for liberty: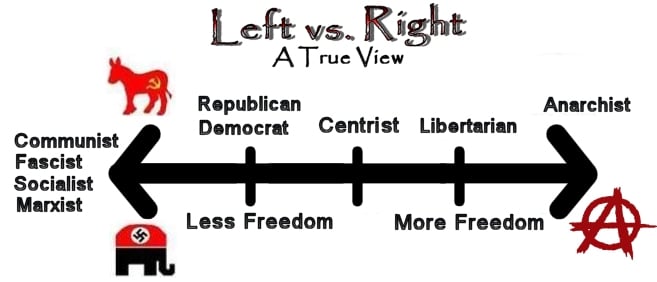 Diagram Source: Illusion of Opposites
Compromise between these two philosophies is simply not possible.