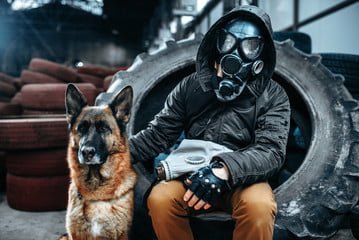 Your dog is most likely not going to be forgotten when the SHTF, so why not have a contingency plan for him? Your beloved pet might be able to help you get through a catastrophe, as long as you make plans in advance.
The most important factor to consider is water.  If you have a well, you only need to have a method to get water from it in the event there is a power grid failure or malfunction. If you store your water, make sure you store extra for your four-legged friend. Dogs are often fine drinking water from a stream or a creek, and may not need as much as you think if a water source is readily available, but it is something to keep in mind.
Dog food will probably not be readily available if the country or globe is plunged into a primitive survivalist environment.  So obviously, the basics of food and water should be dealt with first. You should stockpile canned dog food and kibble if you find it on sale.  Oftentimes dollar stores a great place to find bulk, hugely discounted dog food.  It won't be premium quality food, by any stretch of the imagination, but it will keep your dog alive when society is crumbling around you.
Thankfully, it's relatively easy to store kibble for your dog or cat. Try to find a food-safe grain storage bin to keep out the rodents and save about a one year supply.  This is handy for those who may want better quality dog food.  Saving it in advance is the way to go!
But there's one suggestion that I have found personally helpful.  If you hunt and know how to kill your own food, you'll have a leg up when the SHTF.  Instead of tossing out that chewy hock (the bottom part of the elk or deer's leg) save the meat and boil it.  Dogs love this and as it approaches one year of being in the freezer during normal times, (it won't keep forever) toss it in some boiling water with a little salt. Doing this is a simple way to help keep your dog fed and eliminate waste after a hunt.  Any other part of the animal that is not fit for human consumption, such as some of the organs (dogs particularly like the liver), could be saved and prepared in a similar manner for your dog (or cat, to each their own.)
The Happy Prepper also suggests making your dog its own bug-out bag!  Not only could that be a fun project, but it could help your furry friend and yourself if you wake up to a disaster.
Try not to overload your dog with too many items, but things like paracord would be excellent additions to a doggie bug out bag.
The Happy Prepper also suggests taking the time to train your dog for survival now, before there's a SHTF situation.
SURVIVAL SKILLS TO TRAIN YOUR DOG:
It's time to teach your dog some tricks, and these skills will help both you and your pet survive. Skills for the prepper dog
include:

Barking: There are two skills to teach your dog in regards to barking. First, you'll need to teach your dog to bark on command (to discourage intruders). You'll also need to STOP your dog from barking on command (to hide from intruders). Both are important skills for dogs — even the little ones. It will also help your dog to think.
Defense. Dogs will have an instinctual need help you when you are in trouble, but you'll need to stay in control with a command to have your dog back off. Learn an attack command. Usually, this is a voice command followed by a pointing signal, so the dog knows who to attack.

Hunting: As dogs are domesticated animals, they may have "forgotten" the skill of hunting. When the bullets, beans, and kibble runs out, your dog will have to help fend for himself. Here's how to train your dog to hunt.

Kennel Training: Kennel training your dog will keep him comfortable and safe. Also, it's best to keep your dog off the bed to avoid fleas. That's important to remember in times of pandemic. Want to avoid the plague? Then keep pets off your bed to minimize contact with fleas, which may be carriers! "Don't allow dogs or cats that roam free in endemic areas to sleep on your bed," the CDC advises.

Stay: One of the most basic things you can teach your dog is to "stay."

Search and rescue: Admittedly, search and rescue is a highly specialized training, but if your dog has the skills, all the better. Lassie was the ideal dog for search and rescue.
This is by no means a complete guide for your pet's survival, but it could get you started if you have a dog you'd like to help get through a catastrophic situation. If you have any more suggestions, please leave them in the comments so others who may find them useful can take your ideas into account!