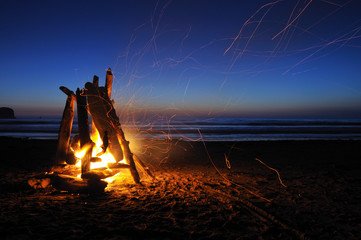 As preppers, we like to share important tips when we come across them.  One trick that could help us all immensely when the SHTF is knowing how to start a fire with wet wood: one of the most frustrating things on Earth.
When it comes to a SHTF situation, one of the most critical survival skills you can learn is how to start a proper fire. With this skill, you can cook your own food, dry wet clothes, warm yourself up, and even signal for help. Anyone who's gotten a campfire going probably thinks they have it all figured out.
Let's face it, it is rather simple: when we are wet and cold, we want to be dry and warm and we'll need a fire to do that in an emergency. But making a fire out of wet wood isn't the easiest thing to do. Even if you can get your tinder burning, the logs can stubbornly remain unburnt. So I've found a few tricks I'd like to share and maybe they'll help the next time all you've got is wet firewood.
First, water usually only penetrates the outer layers of dead wood, so your best bet is to use a knife or hatchet to strip away the damp outer layer. You could also split the wood into smaller pieces exposing the dry inside. Once you've got your wood ready, employ one or some of the following and you should have a fire in no time!
Petroleum Jelly (Vaseline) – Cotton balls soaked in petroleum jelly burn at extremely high heat and are a great low-cost alternative to commercial fire starters. Each ball will burn for about three minutes which is long enough to dry out the wet tinder and ignite it. If you try this, make sure you pack them in a sealed plastic bag.  They can get messy but are invaluable. Stock up on these! You can make about 200 of these yourself for under $10.
Steel Wool – This one is usually the most surprising and unknown. Steel wool is actually highly flammable and rather inexpensive. A few sparks from a Ferro rod will get a clump of steel wool burning at over 1,800 degrees Fahrenheit in a matter of seconds. Steel wool also has the advantage that it can be lit electrically. If you rub the terminals of a 9-volt battery against the wool, it will heat to its ignition point in a couple of seconds.
Doritos Chips – Say what? Doritos chips are actually flammable. (It kind of makes you wonder what's in them now, huh?)  As it turns out, the chemicals, powdered flavors, and oil in the chips make the perfect combination for combustion. Almost any chip will do, actually, so if you dislike Doritos, don't worry, experiment with chips you do like as most other chips are flammable as well. And if you get your fire started with steel wool or petroleum jelly soaked balls, you won't need to light your chips on fire. You will have a crunchy snack to munch on as you warm up.
There are more options that these too if you're really in a pinch, but I chose to share these with you because of the low cost and effectiveness of them. Also, stocking up on all of these items is a good idea because they have several uses and could come in handy when the SHTF.