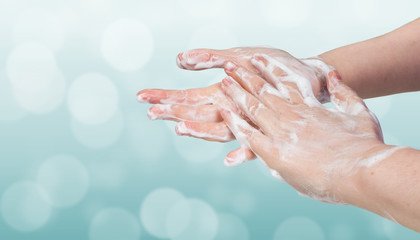 When you are preparing for the possibility of a massive outbreak or even a pandemic, one of the first things you should evaluate is your handwashing regime and personal hygiene. While face masks could provide some protection against infection, you should also ensure you wash your hands correctly!
According to research, a mere 5% of people wash their hands properly after using the restroom. Probably even fewer people wash their hands properly to prevent the contraction of a potentially deadly virus, such as the flu or the coronavirus. Because an ounce of prevention is worth a pound of cure, here is the suggested way to wash your hands:
Wash your hands frequently with soap and water for 20 seconds minimum, especially after going to the bathroom; before eating; and after blowing your nose, coughing, or sneezing. In a pinch, people can use a hand sanitizer that contains at least 60% alcohol. Remember to never touch your face, especially the eyes, nose, or mouth unless you've washed your hands well.
Proper handwashing protocol includes five steps, according to the CDC: wetting hands with clean running water; lathering soap on hands, including under nails, between fingers and the backs of hands; scrubbing at least 20 seconds, or roughly twice the length of the "Happy Birthday" song; rinsing hands, and drying them with an air dryer or clean towel.
Boosting handwashing rates at airports around the world could slow a potential pandemic by 24% to 69%, and increasing handwashing at only 10 major airports could reduce pandemic risk by up to 37%. — MIT study
In addition to taking the time to properly wash your hands, you should take other precautionary measures, such as avoiding contact with sick people; not touching your eyes, mouth, and nose with unwashed hands; staying home when you're sick, and covering your sneeze or cough with a tissue that you then throw out immediately.  You can also wear an N100 face mask to help prevent the inhalation of infected droplets.
Coronavirus: The Best Face Masks And How To Prevent Contraction Of The Virus
Simple Prepper Hacks To AVOID Getting The Flu
https://www.shtfplan.com/headline-news/how-to-stay-healthy-during-flu-season-and-prevent-coronavirus-infection_02042020
"Our study concludes that population engagement with proper hand hygiene could be a simple and effective solution for preventing transmission of infections and reducing the risk of massive global pandemics," the authors of the MIT study wrote.
As much as preparing by boosting your immune system and improving your "pandemic supplies," you should be concerned with handwashing.
4 Often Forgotten Medical Supplies To Spruce Up Your Emergency First Aid Kit