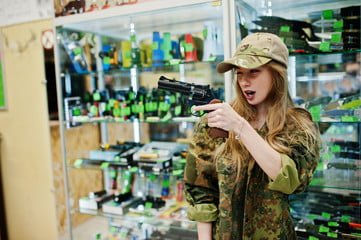 If you have a military surplus store near you, then you probably already know that it's a pretty decent place to find some great things to toss in your prepper supply or an emergency bag.  Because of that, here are a few items you can look for next time you head over there!
Bags – Good quality backpacks and bags can often be found at military surplus stores. You can get some incredible deals on these items! I have several small bags I found that I use to keep ammunition in both when I go shooting and to store at home.
Boots – you can also find lightly used and new combat boots. If you like the fit and these types of boots are comfortable for you, this a good place to grab a pair for cheap!
Socks –  I am always in the market for good quality, warm, lightweight, and breathable socks.  Military surplus stores often carry several choices and it's nice to pick up a few pairs whenever I go in. Wearing them and learning which are the best is a great way to spot finds in other stores too, such as outdoor types (Cabela's.) The socks are not used or worn, they are just made for the military.
Tents – From small military pup tents to large canvas tents made for 10-12 soldiers, you can find it at a military surplus store. Smaller stores are not going to have these out on display. A few places that specialize in the big military surplus that may have come out during the summer. If you are interested in a tent it is best to talk personally to someone at the surplus store or email them an inquiry. This tip comes from Backdoor Survival.
MREs – These are good finds at military surplus stores because they can be much cheaper than purchasing them online. However, it can be hit and miss especially since they are often sold individually. Some people like to buy them individually so they can pick their entrees out rather than getting a mixed case, while others like to buy in bulk. I'm a "bulk purchase" person, however, getting some MREs for cheap at a military surplus store can really help those who may be cash strapped.
Of course, this is not an exhaustive list of all the great things you can find at a military surplus store.  If you have anything you specifically look for when you go into one of these stores, share it with everyone in the comments.  There are so many great finds, it would be impossible for me to list them all myself!