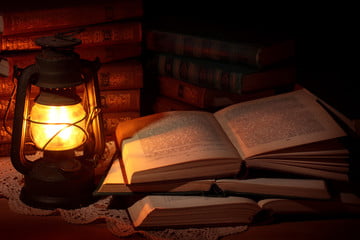 If you lose power, knowing how to easily make an oil lamp out of items you may already have could help provide the comfort of some lighting when things go dark. Oil lamps have been around since ancient times, and while they may be a lost art to some, for preppers, they are incredibly useful tools.
Knowing how to make your own oil lamp could give you some much-needed light if the power goes out. In fact, the Amish use oil lamps because they are both practical and inexpensive. While the average candle has the power to light just
7-8 hours, the typical burn time of a hurricane oil lamp, is around 20 hours. But buying one of these will set you back about $50! Because of that, there's a do-it-yourself solution that costs very little. 
SUPPLIES
Braided wick – the thicker the wick, the brighter your light.
Wire
Olive Oil – buy it in bulk, by the gallon. It'll be cheaper and last a long time!
Jar
Lid for jar
INSTRUCTIONS
Using the pliers, cut a 15-inch length of wire to form the "wick  holder."
Roll one end of the wire tightly around the nose of the pliers 4 to 6 times.  Move to the other end of the wire and wrap a circle that will fit into the bottom of the jar that you've chosen for your lamp.  Wrap this circle several times with the wire to make a firm foundation for your wick.
Using tweezers, feed your wick through the circle made by the pliers, and pull through the top. Place the wick in its holder in the jar.  Fill with olive oil to within one inch of the top of the wick. You should wait until the wick has completely absorbed all of the olive oil before lighting it. More in-depth instructions can be found at Joybilee Farm's website by clicking here.
SAFETY FIRST
Always use caution when you are using an open flame.  To extinguish the oil lamp put the lid on the jar. Please avoid licking your fingers and trying to snuff it out. This could result in a bad burn on your fingers. The jar and the oil won't heat up from the olive oil flame, however, you should try to keep it on a non-flammable surface as a precaution. If you are concerned about the safety of making your own oil lamp, consider buying a couple instead. They will cost more, but it might be worth it if it gives you some added peace of mind.
In a pinch, having the supplies on hand and the know-how to create a cheap oil lamp for some light could come in handy.