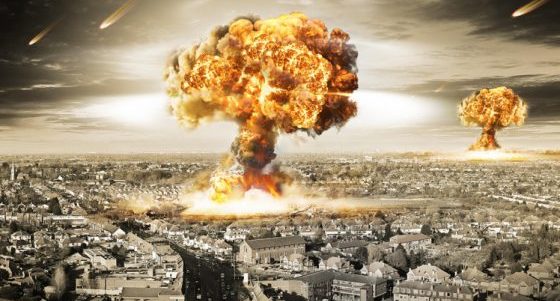 Amid rising tensions between the United States and North Korea, the Centers For Disease Control and Prevention have scheduled a briefing for later this month that will teach healthcare professionals how to better prepare the public for a nuclear detonation in America.
The "teaching session" will target doctors, nurses, epidemiologists, pharmacists, veterinarians, certified health education specialists, laboratory scientists, and others and will be held January 16th.
A posting on the CDC website outlines the agencies "Public Health Response to a Nuclear Detonation" which details the need to be able to inform the public on how to possibly survive such an attack.
The Threat Is Real – Prepare Your Family For A Chemical, Biological, Radiological, Or Nuclear Attack (Ad)
"While a nuclear detonation is unlikely, it would have devastating results and there would be limited time to take critical protection steps. Despite the fear surrounding such an event, planning and preparation can lessen deaths and illness," the notice reads.
"For instance, most people don't realize that sheltering in place for at least 24 hours is crucial to saving lives and reducing exposure to radiation. While federal, state, and local agencies will lead the immediate response efforts, public health will play a key role in responding."
Stat News reports:
A spokesperson for the agency said planning for the event has been underway for months — in fact, since CDC officials took part in a "radiation/nuclear incident exercise" led by the Federal Emergency Management Agency last April, Kathy Harben said in an email.

"CDC participants felt it would be a good way to discuss public health preparedness and share resources with states and other partners. State and local partners also have expressed interest in this topic over time," she said.

Still, the timing of the announcement was eerie, coming on the heels of back-to-back threats exchanged between North Korean leader Kim Jong Un and President Donald Trump.
CBS News also reported on the planned briefing, noting its specific connection to North Korea as well as the fact that some of the speakers specialize in radiation studies.
Two of the people presenting at the briefing specialize in radiation studies. Robert Whitcomb is the chief of the radiation studies branch at the CDC's National Center for Environment Health and Capt. Michael Noska is the radiation safety officer and senior advisor for health physics at the Food and Drug Administration.

This comes amid rising tensions between the U.S. and North Korea. President Trump tweeted Tuesday night, boasting about the size of his "nuclear button" and how it's "much bigger & more powerful" than North Korea's.
The CBS report concluded with the worrying admission that both former Vice President Joe Biden and Admiral Mike Mullen believe that the United States is closer to a nuclear war with the rogue nation than ever before.
It is also important to note that, despite the danger that Americans face from the possibility of a nuclear attack by a rogue nation that has publicly claimed said attack was coming, liberals throughout the media, including some in the "alternative press" continue to claim that the Communist nation is not the problem rather it is Donald Trump who would be to blame if such a war did occur.
To be sure, this is absolute nonsense and ignores the documented history of North Korea in favor of some never support a war attitude that could eventually lead to the destruction of the country.