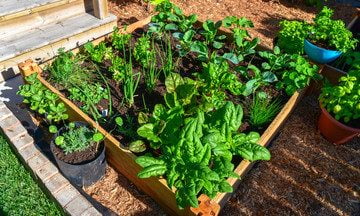 Square foot gardening is a simple method of creating small, orderly, and highly productive kitchen gardens. You may have even seen them before.  With people leaning more and more towards preparedness, their popularity is growing.
It was invented by backyard gardener, retired engineer, and efficiency expert Mel Bartholomew as a better way to grow a vegetable garden, and it became a huge hit when he introduced the idea to the gardening public in 1981 in his book Square Foot Gardening.  The best part about this approach is that you only need a small amount of space to grow an efficient garden – and it can be done indoors.  This is valuable to those who live in cooler climates.
The basic concept is to create a small garden bed (4 feet by 4 feet or 4 feet by 8 feet are common sizes) and divide it into a grid of 1-foot squares, which you manage individually. Seeds or seedlings of each kind of vegetable are planted in one or more squares, at a density based on plant size (e.g., you'd plant about 16 radish seeds per square, but only one tomato plant). Since there are no paths, there is no wasted space, and the soil in the bed stays loose because you never step on it. If you aren't able to build your own garden bed, there places you can purchase premade beds.
The one huge advantage to making the garden bed yourself is that you can build it to fit where you want it and the amount of food you want to grow.  The one disadvantage is that startup costs can be high even if you make your own beds. The expense of building even a small raised bed and filling it with soilless mix has the potential add up quickly. If you do have good soil to work with, stick with the original method and form in-ground garden beds for much less money.
The following guideline may be of use to you.  These can be found all over the internet with minimal searching.  It's easy enough to find one that can work for you and the space you've got to work with.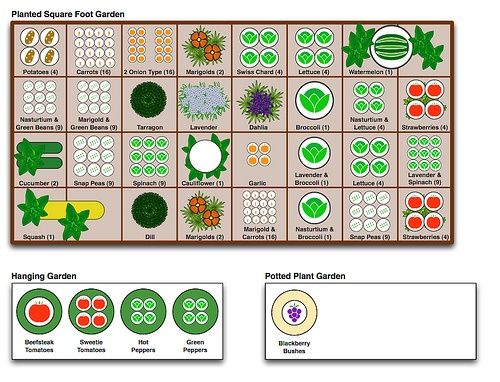 Gardening and preparedness have both become more popular in the wake of the government's overreaction to the coronavirus, which has crippled food supply lines, and impoverished millions already.  Self-sustainable lifestyles were not popular even two months ago, but all that has rapidly changed.  Seeds are not impossible to come by, but we suggest you choose heirloom varieties, so you can save your own seeds and replant them indefinitely.
4 Reasons To Choose Heirloom Seeds For Your Garden
Heirloom seeds will also produce vegetables that will be easier to regrow in water.
Preparedness: How To Regrow Vegetables In Water
Taking small steps toward a more self-sustainable lifestyle and being less dependent on government handouts and the weak food supply chain will give people a leg up when the coming economic collapse truly makes its impact felt.