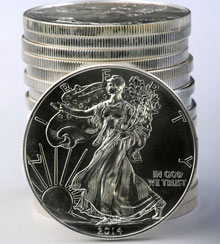 Mass layoffs and closures aren't just a phenomenon in the oil industry. In a new micro-documentary from Future Money Trends trend analyst Daniel Ameduri explains that anemic economic demand has driven major mining companies around the globe to reduce operations in the mining of copper, zinc and other base metals. And because these operations are responsible for the secondary mining of one of the world's most necessary precious metals, as mines close their doors we will see a massive supply crunch in silver.
Coupled with silver's demand as a hedge against monetary instability, Ameduri says silver is set to rise to $100 per ounce or more over the next 24 months. Those who understand that economic calamity is set to pillage wealth across the globe once again can take advantage of this opportunity and not only protect their assets, but grow them significantly. In the following must-see video you'll learn why core fundamentals and investor psychology will drive silver to new highs, as well as three strategies you can implement now to take advantage of the market shock and awe to follow:
When you look at the driver for demand… industrial and monetary… it is only going to increase dramatically between now and 2020… The equation is simple for prudent investors. Silver supply over the next two to three years could decline dramatically. And in all likelihood physical demand is going to hit records.
With around 800 million ounces being mined yearly and over one billion ounces in demand, precious metals and silver specifically could see monstrous gains in an environment where everything else is wiped out.
After the Panic of 2008 investors and concerned citizens around the world began shifting capital into precious metals. Within a few years silver rose to $50 an ounce, a level not seen since the fallout of the economic recession of the late 1970's. Earlier this year, as stocks around the world tanked and investors sold everything that wasn't nailed down, precious metals companies actually rose in value, with some seeing 100%-plus gains in just a couple months.
The trend is clear. When the world goes into panic mode, money flows into the safe haven assets of last resort. This bodes well for silver for a number of reasons:
If we remain at current prices with silver below $20 per ounce, the world is going to face a major supply disruption in a key resource that we all use on a daily basis… we are all silver dependent since this precious metal is in your phone, computer and even the electrical lines that are powering all of your technology.

Silver is used for health care, pharmaceutical, water treatment, solar electrical grids, vehicles, bandages, RFID, weaponry and thousands of other every day uses.

However, the biggest increase in demand is coming from physical investment demand. With negative interest rates and a global depression unfolding, physical demand is surging.
Future Money Trends highlights three specific strategies for taking advantage of the coming surge in silver and includes a notable insider strategy that is being gobbled up by some of the world's most well known resource investors:
1. A silver portfolio must start with physical silver. This is either in coins like the American Eagle or Canadian Maple Leaf, or bullion bars and rounds, ideally from a government mint or a long-standing bullion company. To get the best price avoid any numismatic coins or higher priced premium products. Buy as close to the spot price as possible by acquiring silver in 100 ounce to 500 ounce increments.

2. Own high quality primary silver producing companies. Our top suggestion is First Majestic Silver trading on the New York Stock Exchange under AG. They have six silver producing mines, two advanced stage silver projects, and are soon set to achieve an annual production of 20 million ounces of silver. AG is one of the lowest cost producers with an all-in sustaining cost of approximately $11 per ounce. First Majestic is the purest publicly traded silver producer, generating 69% of its revenues from silver.

3. Do what the insiders are doing. Our third recommendation is truly an insider's play in the industry. This includes shareholders like Eric Sprott, Rick Rule, Doug Casey, and Marin Katusa. This may not be for everybody, so we suggest viewers go to FutureMoneyTrends.com/Silver2016 to learn more.

Looking at silver's past moves and history we are expecting to see shock and awe in the markets as our forecast for the rising silver price plays out.
We've seen the trend repeated throughout history. When uncertainty grips the investment world and most are left without any idea of how to protect their assets and wealth, those who have positioned themselves in precious metals ahead of crisis have benefited greatly.
For more videos like this one visit Future Money Trends.
Learn the strategy being used by top investment insiders to profit from the coming bull market in silver.