This report was originally published at Zero Hedge
Editor's Note: Governments around the world are planning for the worst. In the United States the government has been hoarding everything from literal tons of food to billions of rounds of ammunition. Now, in Europe, as the refugee crisis goes critical, the Hungarian central bank is starting to do the same. Whether it's economic crisis or a refugee swarm, they are planning for the worst.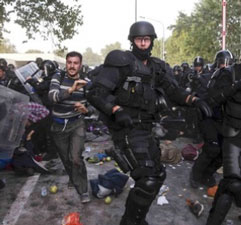 If we learned anything last September it's that Janet Yellen's reaction function now includes domestic and global financial markets.
Well that, and we learned that Hungarian PM Viktor Orban isn't playing around when it comes to Europe's worsening refugee crisis. While everyone else in Europe was busy trying to figure out how to accommodate the millions of asylum seekers fleeing the war-torn Mid-East, Orban simply built a razor wire border fence.
And then he built another one.
And then, when migrants tried to breach his barriers, he met them with water cannons and tear gas. This was the scene: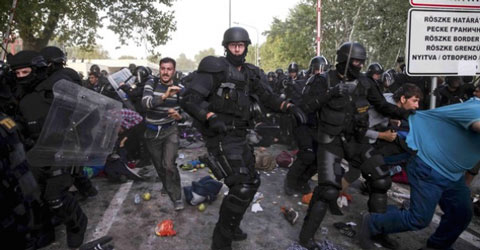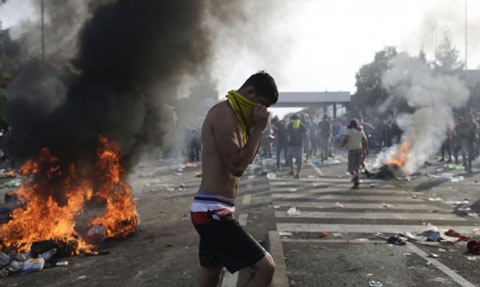 "Problem" solved.
So clearly, Hungary isn't playing around when it comes to security, but as it turns out, migrant-be-gone fences and tear gas aren't sufficient in today's dangerous security environment and so,the Hungarian central bank is stockpiling guns and ammo.
No, really.
"Hungary's central bank, already facing criticism for a spending spree ranging from real estate to fine art, is now beefing up its security force, citing Europe's migrant crisis and potential bomb threats among the reasons," Bloomberg writes. "The National Bank of Hungary bought 200,000 rounds of live ammunition and 112 handguns for its security company, according to documents posted on a website for public procurements."
Why, you might fairly ask, does the central bank need 200,000 bullets and hundreds of guns? Because of "international security risks," central bank Governor Gyorgy Matolcsy says.
As Bloomberg goes on to note, "the security measures added to public scrutiny of the running of the bank, which under Matolcsy – an Orban ally – earmarked 200 billion forint ($718 million) to set up foundations to teach alternatives to what he called 'outdated neoliberal' economics."
Well, the central bank could be championing worse things. They could be teaching Keynes and stockpiling fiat money. Instead, they're doing away with neoliberalism and hoarding guns and ammo.
We close with a quote from PM Orban who met with Vladimir Putin on Thursday: "Europe's largest nations now believe that the flow of migrants is mostly positive. Our view is that it's bad."
And there's nothing like 200,000 bullets to combat "bad" things.
Related:
The Empire Is Falling: You Will Live To See It. But Will You Survive It?
The Prepper's Blueprint – Prepare For Any Disaster
Mark Levin: Government Is "Simulating the Collapse of Our Financial System, the Collapse of Our Society and the Potential for Widespread Violence"
Executive Doomsday Order: Obama Authorizes Gov to Seize Farms, Food, Processing Plants, Energy Resources, Transportation, Skilled Laborers During National Emergency
Just In Case: State of Alaska to Stockpile Mass Amounts of Food and Supplies in Giant Warehouses