Updated April 18, 2013:
One of the individuals identified as a potential Boston bomber through web crowd sourcing has stepped forward after seeing his photos spread virally all over the internet:
I'm NOT a terrorist… I was just watching the marathon.

A teenage boy wrongly identified as a Boston bombing suspect fought back tears as he told how he begged police to help him clear his name.

Sulahaddin Barhoum clutched a handful of his own running medals on a red, white and blue ribbon as he told MailOnline of his terror at being falsely accused.

The 17-year-old Moroccan, who moved to the U.S. with his family four years ago, said: 'Late last night friends started calling and emailing me – they said my photo was all over the internet, that I was a suspect in the Boston bombing.

'I was terrified, I have never been in trouble and I feared for my security,' he said.

'At 1.30am I called a friend to take me to the state police – I walked in to the lobby and told them I thought I was wanted by the FBI. They didn't know what to make of it.

'I had my papers with me and I gave them my social security number so they could check me out.

'They didn't even take me into a private room. They made some calls, then said I was free to go.

(Source)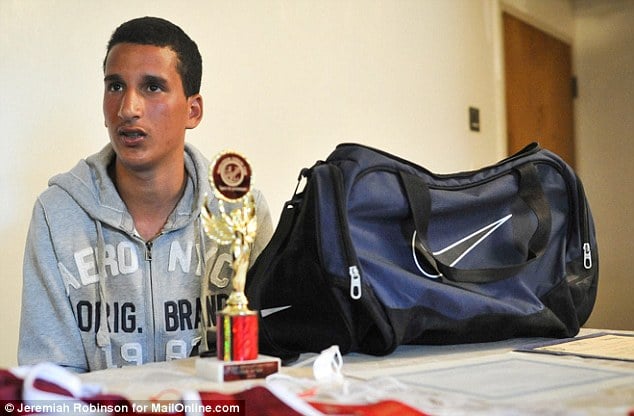 The Real Suspects are now the most wanted men in the world:
The FBI today released images of two suspects in the Boston Marathon bombing the bureau still considers to be "armed and extremely dangerous."

A source close to the investigation told ABC News authorities have "good confidence" that these men perpetrated the crime.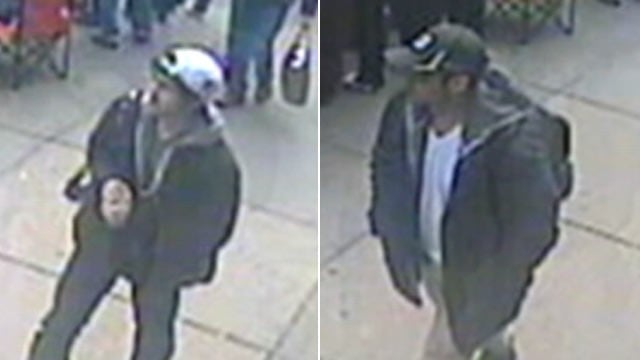 Original Report:
Reports that the FBI/DHS have identified a potential suspect or suspects are now emerging. According to Reuters, at the time of this writing no arrests have been made.
There are however, persons-of-interest.
A press conference is scheduled for later today, but for the time being law enforcement officials are keeping mum.
Nonetheless, alternative media and internet users have been conducting their own investigations.
And some of the evidence for who the culprit(s) may be is quite compelling.
As you'll see from the pictures below, it's possible that a white, middle-aged lone wolf American male was involved. Or, with two bombs, one must consider the possibility, counter to CNN's Wolf Blitzer, that this was not a 'lone wolf' attack and that it was carried out by members of foreign terrorist organizations.
The analysis in pictures below, provided by Infowars.com, shows various potential suspects.
And if we're looking at this, you can bet the FBI, DHS, and others are doing so as well, on a much larger scale.
You can view all related images, videos and analysis at Infowars.com
Expect arrests to be made, or official suspect images and descriptions to be released, in short-order.
With the scale and cost of the existing surveillance infrastructure in America, it's amazing that no one is in custody yet.
Was it a homegrown flag waving Patriot group?
A domestic lone wolf?
Iranian sponsored?
Or Al Queda's USA-based faction?
Speculation abounds. Theories will emerge. Distractions will be prevalent.
The narrative will soon be released, and as with any government-managed crisis, it will aim to exploit.