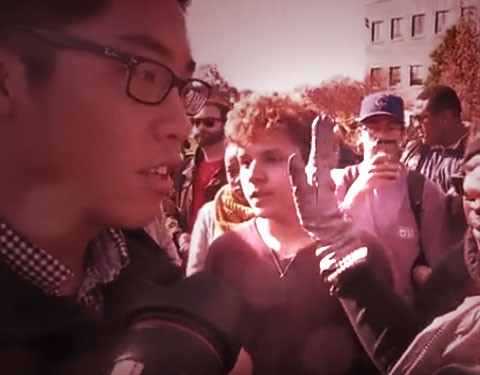 This article was written by Paul Joseph Watson and originally published at Infowars.com.
Editor's Comment: It's a sad day when our rights are so totally upended that not only can dissenting viewpoints be expressed on many college campuses, but even a credentialed press reporter can't cover a story without being shutdown just for trying to cover a story that was happening on campus. Free speech and the second amendment are the last remaining barriers to all out tyranny, and both are under attack.
Photographer Threatened With Mob Violence For Asserting First Amendment Rights
by Paul Joseph Watson
A photographer was threatened with mob violence by a professor at Missouri University after he tried to assert his First Amendment rights against "safe space" authoritarians who used Maoist tactics to shut down free speech.
The incident happened in the aftermath of yesterday's resignation of University of Missouri President Tim Wolfe, who stepped down after failing to acquiesce to a list of demands from students that included a request he acknowledge his "white privilege".
After students and professors formed a human shield to try and block reporters from covering the story, photographer Mark Schierbecker attempted to get an interview with some of the demonstrators.
The end of the video shows a woman who was later identified as Melissa Click, an assistant professor of mass media, grab Schierbecker's camera before demanding that he leave.
Click then brazenly calls for mob violence to help remove Schierbecker.
"Hey who wants to help me get this reporter out of here? I need some muscle over here," she yells.
At the beginning of the video, another photographer, Tim Tai, attempts to do his job as he is accosted by the crowd.
As the mob begins to encircle and intimidate him, Tai attempts to explain the meaning of the First Amendment.
"I am documenting this for a national news organization [ESPN TV]," Tai told the protesters. "The First Amendment protects your right to be here and mine."
Tai is eventually pushed back by the mob, who appear to think that it is their "right" to physically assault someone to suppress their free speech.
After Click received a barrage of criticism for behavior, she locked down her Twitter account. It's no surprise to learn that the professor is a fan of 'Everyday Feminism' and Planned Parenthood.
In a similar vein to another incident at Yale last week, during which Professor Nicholas Christakis was besieged by students after he sent an email criticizing their efforts to censor "offensive" Halloween costumes, the mob shown in the video employed Maoist tactics to intimidate Tai and Schierbecker.
"Students of history will notice an alarming similarity in the video above to the "struggle sessions" of Maoist China, a form of public shaming in which perceived enemies of the Party would be surrounded in a public place by Red Guards, Mao's most zealous supporters. The Red Guards would hurl abuse at their target until they confessed to their crimes."
"Uninformed critics might argue that the Red Guards were a weapon of the Communist state, and not a genuine grassroots movement, but they'd be wrong: the Red Guards started out as a student movement, on Chinese campuses. Afraid yet?"
This article was written by Paul Joseph Watson and originally published at Infowars.com.