This article was originally published by Tyler Durden at ZeroHedge.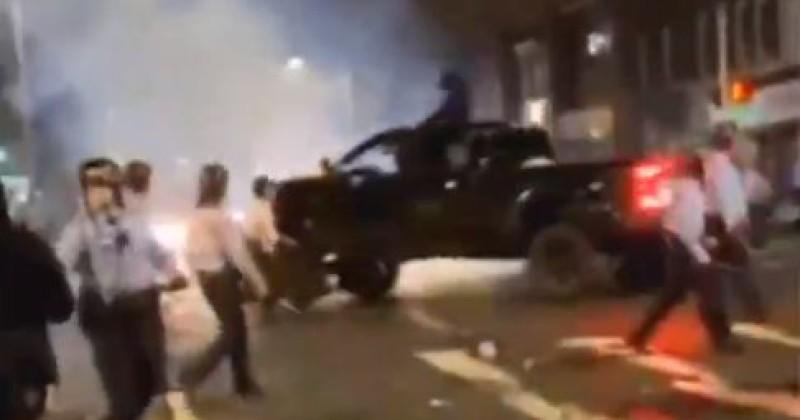 Yet another night of looting and rioting in America…
As Summit News' Paul Joseph Watson reports, the rioters hit the streets after the police shooting of Walter Wallace Jr. in an incident being described as yet another unprovoked murder of a black man.
In reality, footage of the incident shows Wallace Jr. ignoring numerous warnings from police officers to drop the weapon as he advances on them before being shot.
His name was Walter Wallace Jr. He was given repeated warnings to drop the knife. Rather than listen to those warnings, he charged at officers while brandishing the knife. This was 100 percent a justified shooting, as any rational person can see. https://t.co/BUsYX37ngw

— Matt Walsh (@MattWalshBlog) October 27, 2020
NOTE – the tweet of the actual incident has now been deleted from Twitter
However, as we have seen multiple times over the past 5 months, Black Lives Matter agitators don't let the facts get in the way of yet another chance to riot.
A female sergeant suffered a broken leg as she was struck by a speeding vehicle.
At the Philadelphia BLM riot, a cop got hit or run over by a speeding vehicle. https://t.co/S12XuEoNAi

— Andy Ngô ?️‍? (@MrAndyNgo) October 27, 2020
Other videos show BLM criminals looting a clothing store.
Mass looting breaks out at clothing and shoe store during tonight's BLM riot in Philadelphia. https://t.co/htXN1rsbCk

— Andy Ngô ?️‍? (@MrAndyNgo) October 27, 2020
Another clip shows a police car on fire.
Video of the police vehicle that was set on fire in Philadelphia by BLM rioters. pic.twitter.com/vgpIe1mw3q

— Andy Ngô ?️‍? (@MrAndyNgo) October 27, 2020
Cops were chased down the street by the mob, who threw projectiles at officers who weren't wearing full protective riot gear.
Police run away and retreat from a mob of BLM rioters in Philadelphia. pic.twitter.com/mcRONzebDl

— Andy Ngô ?️‍? (@MrAndyNgo) October 27, 2020
"Get em, yeah! That's what I like!" shouts the man filming the scene.
Another video shows riot cops being pelted with trash cans and other objects.
Philadelphia police are outnumbered by hundreds of Black Lives Matter rioters. https://t.co/q2jqvTsLnb

— Ian Miles Cheong (@stillgray) October 27, 2020
A total of 30 police officers were injured during the clashes.