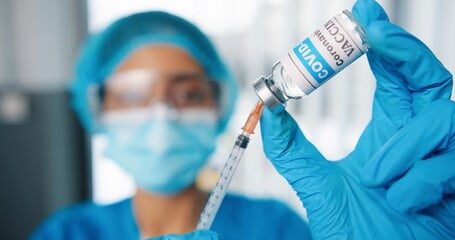 In order to be considered "fully vaccinated" according to the current ruling class, otherwise known as the Biden administration, the slaves will need to have a booster shot of the Pfizer gene therapy shot. This injection is likely to be approved by September 21 of this year.
They continue to move the goalposts, and no one seems to notice, and fewer seem to care. After saying booster shots will likely be needed for people to be considered "fully vaccinated" against the COVID hoax, White House health adviser head medical tyrant, Dr. Anthony Fauci, said Pfizer could have approval for the third dose in a matter of weeks.
What about those Johnson and Johnson "vaccine" takers? They have boosters coming too. And you thought all you needed was the one-time jab? Silly, slaves. But Fauci is working on making sure the J&J jabbers can take the Pfizer booster in the coming weeks.  "But right now, we are suggesting and hopefully it will work out that way, that if you got Pfizer, you will then boost with Pfizer. If you get Moderna, you'll be boosting with Moderna," he said. "But we are doing the studies to determine if we can do just that: Switch one with the other."
Moderna's vaccine will still need more time to get "appropriate approval," Fauci said of the original two-dose "technology" shot. He did not give a timeframe for the Johnson & Johnson COVID vaccine, though they have been working on a booster shot, as well.
During an appearance on CBS' Face the Nation, Fauci revealed the Pfizer-BioNTech shot will likely be the only approved booster dose given authorization by September 20, the date the Biden administration previously said it wants to see booster shot distribution begin. –RT
"We were hoping that we would get the, both the candidates, both products, Moderna and Pfizer, rolled out by the week of the 20th. It is conceivable that we will only have one of them out but the other would likely follow soon thereafter," Fauci said. Fauci also declared that once these booster shots become available unless you take one, you will not be considered "fully vaccinated."
No one should be surprised the goalposts are moving. No one should be surprised if the tyrannical power grab intensifies. Stay aware and prepared and continue to use your own discernment and critical thinking.