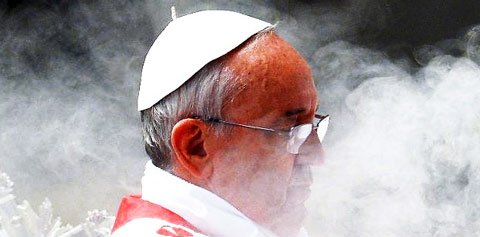 Since his coronation, Pope Francis has made waves throughout the Catholic community, often shunning generally accepted Papal tradition for a more modern and progressive world. He is, for lack of a better term, a reformer. From refusing the luxurious living quarters traditionally reserved for the head of the Church in the Vatican, to turning Catholic dogma on its head by suggesting it's OK to be gay when he addressed the issue by asking, "Who am I to judge?" Francis is unlike any popes who have come before him.
By some accounts, he has been a positive influence, as evidenced by a growing interest in Catholicism since he took the reigns of the Church. For others, especially those who have followed the centuries old prophecies of Saint Malachy, his message is being approached with caution and skepticism.
Now, in his first encyclical, a Papal letter sent to Bishops of the Roman Catholic Church, Francis has once again caused an uproar by claiming free market capitalism and trickle-down economics are unproven theories not backed with facts.
"It is no longer simply about exploitation and oppression, but something new," the pontiff wrote in the 85-page document. "Exclusion ultimately has to do with what it means to be a part of the society in which we live; those excluded are no longer society's underside or its fringes or its disenfranchised – they are no longer even a part of it. The excluded are not the 'exploited' but the outcast, the 'leftovers'.
The pope also denounced "trickle-down" theories of economics promoted by many conservatives and politicians who espouse an unregulated free market.

"In this context, some people continue to defend trickle-down theories which assume that economic growth, encouraged by a free market, will inevitably succeed in bringing about greater justice and inclusiveness in the world," he said. "This opinion, which has never been confirmed by the facts, expresses a crude and naïve trust in the goodness of those wielding economic power and in the sacralized workings of the prevailing economic system. Meanwhile, the excluded are still waiting."
"In addition to restating opposition by the Catholic Church to abortion, the new Pope criticized free market capitalism and advocated wealth redistribution," notes Kurt Nimmo of Infowars about the Pope's latest ideas.
While the free market system as it exists today is certainly not ideal, especially considering the elite political machinations taking place behind the scenes on a global scale (including within the halls of the Vatican itself), Pope Francis seems to indicate in his encyclical that the solution is wealth redistribution – on a global scale.
Helping the poor and destitute has always been a tenet of Christianity and Catholicism, but the Pope's statements become suspect for a variety of reasons, with one of the keys being the notion that he is the fulfillment of a prophecy that claims Francis will be the Pope that ushers in an era right out of the Book of Revelations.
The hesitation for many in subscribing to Francis' message of reformation is attributed to a document referred to as the Prophecy of the Popes, which was hidden in the vaults of the Vatican for nearly 900 years, but followed closely by insiders:
In 1139 A.D. the Catholic Saint Malachy was said to have experienced visions during a trip to Rome. He subsequently put these visions to paper and penned a document containing 112 short phrases purporting to describe all future popes that would head the Catholic Church. Though not a part of official Catholic dogma or church teachings, this Prophecy of the Popes is well known by Vatican officials and church scholars because it has been remarkably accurate about naming the last 111 heads of one of the world's oldest and most widespread religions.

According to researchers, theologians and evangelical scholars, the phrases Malachy scribed in his writings offer up the "nature, name, destiny or coat of arms" of every pope in succession and culminate with the naming of the 112th pope.

…

Now, according to prophecy, the 112th Pope will step up to head the Church, and he will be named Petrus Romanus, or Peter the Roman.
Here's the scary part, and one that has given Catholics and other theologians pause, because according to Malachy's prophecy, Petrus Romanus is to be the final pope, who will oversee not only the destruction of the Catholic Church, but the world as we know it:
"In  extreme persecution the seat of the Holy Roman Church will be occupied by Peter the Roman…"

"Who will pasture his sheep in many tribulations and when these things are finished, the city of seven hills will be destroyed, and the terrible or fearsome judge will judge his people.

The End."

Prophecy of the Popes – Attributed to St. Malachy circa  1139 A.D.
Tom Horn of Raiders News Update and one of the world's foremost experts on the subject published a book in 2012 with theologian Chris Putnam titled Petrus Romanus: The Final Pope Is Here. In their book, the researches claim that the 111th Pope, Benedict, would resign from his position, something that had not happened for 600 years. Benedict did, in fact, resign less than a year later and was replaced by current Pope Francis.
According to Horn, though Francis' name does not directly match that of "Petrus Romanus," he may well be fulfilling the age-old prophecy of Malachy:
Horn has said a pope of Italian descent would fulfill the prophecy, noting Bergoglio is the son of Italian parents and a Jesuit.

…

"Being a Jesuit is a very important aspect of our prediction in our book," Horn told WND in an email.

…

He also sees significance in Bergoglio naming himself after Francis of Assisi, an Italian, or Roman, priest whose original name was Francesco di Pietro (Peter) di Bernardone, "literally, Peter the Roman."
What's more, in a recent interview Tom Horn tied together Malachy's writings with the research of other Vatican scholars and theologians which indicate that, while Francis himself may not be the biblical anti-christ, he may be the world leader who introduces him, supports his ideas and helps to convince unwitting followers to put their trust in him.
Something big is coming… it does involve the war of wars… and I believe that we're on the precipice of it right now.

…

I want to talk about the strategems that I believe will be used to initiate it…

It is a war between good and evil… but on the surface it might not appear to be because it's also going to include believers against believers… and I'm talking about some of the biggest ministries in the world…
Tom Horn Full Interview with Steve Quayle on the Hagmann and Hagmann Report:

*Note: This is a 3 hour interview and worth listening to in full. For those with limited time, we suggest forwarding to about 1:03:00 into the interview where Tom Horn details his research.
Stepping outside of Church dogma by attacking the concept of free market capitalism may soon be revealed to be a politically motivated move by the Pope with much deeper implications.
At this point, while we should not necessarily ignore Malachy's prophecy or the Pope's enyclical, some skepticism is certainly understandable.
Until Francis begins to put his support behind world leaders or political movements, it remains difficult, if not impossible, to confirm the Pope has ulterior motives and is, in fact, fulfillment of prophecy. However, the goings on in the world suggest that Tom Horn is on target with his assessment that something big is coming. And the fact that there are over one billion Catholics globally indicates that whatever happens will also involve the Church as well as this pope.
History proves that the Roman Catholic Church has been directly involved in confrontations since its very inception, so its involvement now would not be without precedent.