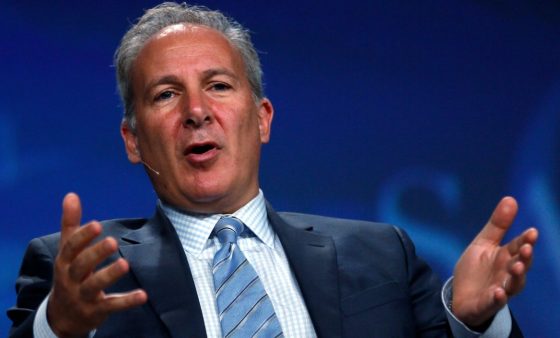 Peter Schiff, who accurately predicted the 2008 financial crisis has said in a recent podcast that the Federal Reserve is going to let the "inflation genie out of the bottle."  And Schiff says this warning comes directly from the Fed's own chairman, Jerome Powell.
In his podcast from August 24, Schiff warns that inflation is going to impact us all very soon. Schiff based this assessment on a speech given by Powell at Jackson Hole. 
"What Powell is saying is, 'We are not going to do anything to make sure that the inflation genie stays in the bottle, but if the inflation genie actually escapes the bottle, and we don't think that she's going to; we think the genie is happy hanging out in the bottle. But if for some reason she gets free, well then, we're going to do whatever it takes to get her back in there, especially considering the vulnerability of the US economy.'" –Peter Schiff
According to Seeking Alpha's assessment of the podcast, Schiff noted that the strength of the dollar and the weakness in gold have primarily been driven by expectations of aggressive central bank monetary tightening.
"If what Jerome Powell said today causes traders to second-guess those assumptions and maybe dial back their expectations for rate hikes, maybe not necessarily the two rate hikes that everybody believes that are coming in the balance of 2018, but potentially they idea there may be no rate hikes at all coming in 2019 and that 2018 may be the end of it, and in fact, maybe we won't even get the December rate hike. I think to the extent that traders start to reprice the odds of future rate hikes, this could be a big move in the dollar, a big move in gold." –Peter Schiff
Schiff went on to say in the podcast that we should be prepared for inflation and recession to his us in the face and at the same time.
"I think by the time we have this high inflation, we're also going to have recession. Now, is the Fed going to do whatever it takes to put the inflation genie back into the bottle even if it means exacerbating a recession that is already underway? Because we can certainly have inflation and recession at the same time. I mean, we've had it before and I think we're going to have it again. But of course, given the amount of debt that we have, if the Fed really jacked interest rates up to seven, eight, nine percent – whatever it took in order to rein in that inflation, not only would it cause another financial crisis, but it would cause the US government to either have to dramatically slash spending on things like Social Security and Medicare, dramatically increase taxes, even during a recession, or default in its bonds. So, doing whatever it takes means basically economic Armageddon, so I don't believe that for a minute." -Peter Schiff
Schiff also made a dire prediction that should serve as a warning to Americans:
"I do think that the American public is a lot closer to poverty than anybody imagines.  I mean, I don't think the only thing standing between Americans and abject poverty is Donald Trump's presidency, even though he may believe that. I think what maybe has been standing between America and poverty has been the Chinese and the rest of the world willing to give us their stuff for free; exchange the goods that they produce for the money that we print. And all of that is in jeopardy now." -Peter Schiff
Schiff says it is definitely possible that all Americans will soon be poor, but not for the reasons that Donald Trump thinks, for looming reasons no one is looking at.