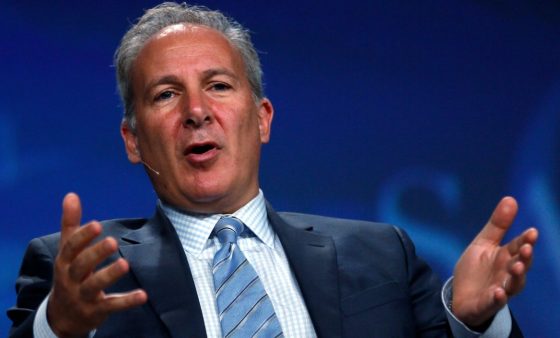 After rallying on Friday, stocks tanked on Monday, dropping over 450 points. In fact, it was the worst first day of the second quarter since the Great Depression.
Stocks dove Wednesday as well on the heels of China's announcement that they will intensify the trade war with more tariffs, according to most analysts.  But Peter Schiff, the financial guru who accurately predicted the 2008 recession has a different take.
According to Schiff's blog, Schiff Gold, most analysts blamed the plunge on the escalating trade war, but Peter Schiff sees it quite a bit differently. He said it was just another bad day in a bear market. In fact, he said the market could have rallied because the Chinese response wasn't as bad as it could have been. But when you're in a bear market, all news is bad news.
Schiff says that the media's talking heads are simply using the tariffs as an excuse. The real truth is that most people are in a selling mood. "Stocks are expensive. The bull market is over. It's now a bear market. People want to get out. People are allocating out. Growth is slowing whether people want to acknowledge it or not," said Schiff.
The media pundits are optimistic too; just like they were before the 2008 recession, said Schiff. "That's what's going on now. Nobody thinks there's a problem. Everybody is optimistic. Everybody is bullish. So, when you see these classic signs that something is going wrong, you just ignore it."
The bottom line is Schiff thinks the economy is going to tank (although he isn't sure how soon that will occur) and the stock market is going to continue its bear run. But the Fed is not going to be able to come to the rescue this time around because of inflation. If it does try to launch more QE to bail out the stock market, it will completely tank the dollar.
When we do all that, the dollar is going to implode because everybody is going to know that the experiment failed. Everybody is going to know there is no way out of this box. There is no normalization of rates that is ever going to happen. Their balance sheet is never going to shrink. The balance sheet is going to grow permanently, which means this banana republic debt monetization. They can no longer pretend that they're not doing the same things as South American banana republics. It's a pure 'we just print money to finance government spending,' which is going to explode.
The national debt is an often overlooked aspect of the economy, but in truth, it will play a big role in an economic collapse and Schiff is sounding the alarms.